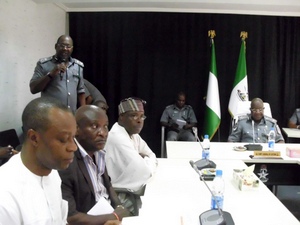 08 August 2013, Lagos – Licensed Cuistoms agents have decried incessant breakdown of server at the Tin-Can Island port, a development that sometimes make cargoes run into unnecessary demurrage.
The agents suspect sabotage on the part of the information technology firm contracted to assist the Customs in its reform process.
Speaking at the just concluded one day colloquium organised by the Maritime Reporters Congress of Nigeria, MARCON, former Chairman of the Association of Licensed Customs Agents (ANLCA) Mr. Kayode Farinto said that the trend of system breakdown is not new.
Farinto stated that the issue of sabotage cannot be ruled out as the Information Technology consultant is wary of the fact that its contract is running out adding it must do every thing possible to remain relevant.
The former ANLCA boss explained that because of the continuous system failure, duty payments are not reflected in the Customs systems sometimes for days.
He disclosed that the server at Tin-Can port will breakdown and remain down for three to four days.
Speaking in similar vein, the Secretary General of the National Approved Government Freight Forwarders (NAGAFF) Mr. Increase Uche said that system failure is a daily occurrence. The Technical Supervisor of the Nigeria Customs Service at the Tin-Can Island Port Command Nasiru Isiyaku said that the breakdown of the server is sabotage adding that the frequency of system failure is too high for comfort.
Mr. Chris Osunkwo, the Command Public Relatiion officer said that the situation is only experienced when there is heavy rain fall or strong wind.
Osunkwo also explained that it is at such times that duty payments are not reflected because such payments hang until they drop into Customs system.
*Godwin Oritse, Vanguard