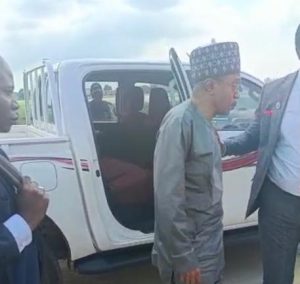 Lagos — Nigeria's suspended central bank Governor Godwin Emefiele has been detained and is being held in custody for investigative reasons, the police's Department of State Services, DSS, said on Saturday.
The country's new President Bola Tinubu suspended Emefiele with immediate effect on Friday, a measure the government said was linked to an ongoing probe of the governor's office and to planned reforms in the financial sector.
Emefiele's suspension had been expected after he drew sharp criticism during the run-up to the February presidential vote from Tinubu's camp.
Allies of Tinubu accused the governor of trying to sabotage their election campaign when his plan to swap old naira bank notes caused severe cash shortages and triggered public anger.
"The Department of State Services (DSS) hereby confirms that Mr Godwin Emefiele, the suspended governor of the Central Bank of Nigeria (CBN) is now in its custody for some investigative reasons," the DSS statement said.
Emefiele has not commented publicly about the investigation or his suspension.
Under Nigerian law, the permanent removal of a central bank governor from office would require a vote by the Senate.
Tinubu criticised Emefiele's handling of the currency and monetary policy at his inauguration last week and called on the central bank to work towards a unified exchange rate.
Economic analysts expect a series of changes at the central bank, including a gradual devaluation of the naira.
"We doubt there will be a single 'bullet' devaluation to parallel market levels," said Razia Khan, Standard Chartered managing director and chief economist, Africa and Middle East.
Nigeria is facing severe dollar shortages, forcing many people and businesses to seek foreign exchange on the parallel black market, where the naira has weakened more steeply.
Under Emefiele, the central bank pursued an unorthodox monetary policy, including handing trillions of naira in cheap credit to farmers and industry to boost output and maintaining multiple exchange rates.
*MacDonald Dzirutwe, Editing: Alex Richardson, Mike Harrison & Helen Popper – Reuters
Follow us on twitter