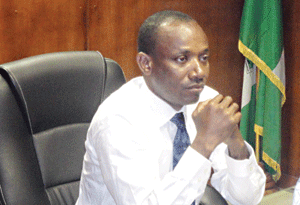 16 July 2013, Abuja – Nigerian Electricity Regulatory Commission, NERC, has justified the current increase on electricity tariff being charged for the various categories of electricity consumers nationwide.
Chairman of NERC, Mr. Sam Amadi told newsmen that the tariff plans where fixed to accommodate for a-five year period based on the expected cost of generating, transmitting and distributing the electricity for homes and businesses during the years stipulated.
Amadi explained that the Multi Year Tariff Order, MYTO, which is the stipulated tariff regime comprised of fixed charge and energy charge, saying "in the past, consumers paid for meter maintenance fee, the Commission abolished the maintenance fee in 2011 to make tariff in the industry fair and reasonable. Fixed charge is a component of electricity tariff all over the world, it is charged to recover some of the capital costs for production and supply of electricity.
In designing the fixed charge, NERC ensured that very poor consumers are not charged fixed charge and that most of the residential consumers are subsidided.
It would be recalled that the Nigeria Labour Congress, NLC, and other affected consumers, had cried out over the current electricity consumption charges, which they described as too high with no consideration for the poor masses in the country.
– Noel Onoja, Vanguard.