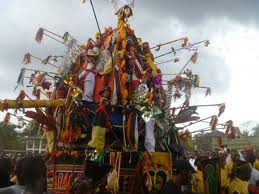 29 August 2012, Sweetcrude, ENUGU—ENUGU State Government has refuted claims by the Management of Orient Petroleum Resources Plc that the lingering dispute between it and the company over some oil wells located in the state, has been resolved.
The Managing Director of the company, Mr Emeka Nwawka, was recently reported in the media as saying that the issues relating to the operations of the oil wells in Ojjor, Iggah and Asaba communities, all in the Uzo-Uwani Local Government Area of Enugu State were resolved at a meeting between officials of the state government led by the Secretary to the Government, Mr. Amaechi Okolo and the company.
However, in a reaction, Enugu State Commissioner for Information, Mr Chuks Ugwoke, described the claims as an "unfortunate misrepresentation of the facts."
He said that though the state government would continue to encourage Orient Petroleum Resources Plc and other private sector investments in the state or elsewhere in the country, it had become necessary to correct the wrong impression created by the Managing Director of the company that the lingering issues between it and the government had been resolved.
Ugwuoke said: "The dispute revolves around the continued refusal of the company to acknowledge that it has oil wells in Enugu State and not Anambra State alone and the need to reflect the existence of oil wells in the three communities in all its communications and instruments."
While admitting that the two parties met over the matter on July 31 2012, the commissioner noted that "no resolution of any sort was reached" as the company merely briefed the representatives of the state government on its operations in the affected communities and even proposed that a conflict resolution committee be set up to address the issues while holding further talks on it.
It will be recalled that the three oil blocs in Enugu State provide the bulk of the company's crude oil supply.