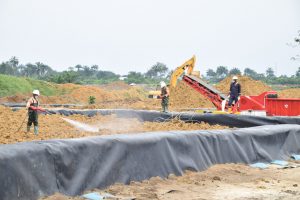 Mkpoikana Udoma
Port Harcourt — The Environmental Rights Action/Friends of the Earth Nigeria, together with other 20 civil society groups have charged the Hydrocarbon Pollution Remediation Project, HYPREP, to advance the implementation of UNEP Report on Ogoniland.
Executive Director of ERA/FoEN, Chima Williams, said the civil society will not rest on their oars as watchdogs in ensuring that HYPREP succed in Ogoni and the goals of the UNEP Report achieved.
Williams speaking at a One-day National Roundtable on the HYPREP organised by the Peoples Advancement Centre, expressed delight that the new Project Coordinator of HYPREP, Prof. Nenibari Zabbey was an activist who had campaigned for implementation of the UNEP Report in Ogoni and had equally published papers on the clean up exercise.
Earlier, the Convener of the meeting, Mr Celestine Akpobari, explained that HYPREP was not set up out of love for impacted people of Ogoni, but due to pressure by the civil society, who he said exposed the decades long injustices meted on the Ogoni people.
Akpobari said the Roundtable meeting was targeted at getting the new leadership of HYPREP to stay on course in implementing the UNEP Report, even as he noted that HYPREP had deviated from its original mandate in some cases.
Recommendations made include, "The need for Federal Government to go back and adhere to the original mandate which HYPREP was conceived to achieve; the need for a civil society liaison desk within HYPREP.
"The immediate need for HYPREP to carry out chemical, air and health assessments as recommended by the UNEP Report in Ogoniland; and the need for the agency to address staff shortages in key areas such as monitoring and operations, in order to deliver on its mandate, among others."
Responding, the Project Coordinator of HYPREP, Prof. Nenibari Zabbey, assured that mangrove restoration will be a priority of his administration to pave the way for the livelihood challenges of the locals to be adequately addressed.
Zabbey announced that over 500 youths have been recruited as civil security supporting clean-up sites and facilities, even as he pledged to work with the civil society to address the gaps in the operations of the agency.
He assured to put in place a framework for inclusion, community engagement and standard operating procedures within the shortest possible time to ensure that the gaps observed by Ogoni people and the civil society were addressed.
Follow us on twitter