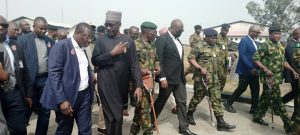 – Hails military over successes against crude oil theft
Mkpoikana Udoma
Port Harcourt — President Muhammadu Buhari on Thursday assured that he will eradicate crude oil theft in the country as a legacy before leaving office in May 2023.
The President said this in Port Harcourt on Thursday during an operational visit to selected Operation Delta Safe formations in Rivers State.
Buhari represented by the Minister of State for Petroleum Resources Chief Timipre Sylva, applauded the armed forces for their successes in the fight against crude oil theft in the country.
"A few months ago, I led a high-powered team to charge you to ensure there was no more stealing of our crude oil. This is a national asset. Mr. President has vowed no tolerance for stealing of the national asset.
"I am happy to announce that I am back again with commendation from the President. He has acknowledged the efforts you have made. There is significant improvement in the crude oil production, Nigerians have noticed, the international community have noticed.
"It is not time to rest on our oars. We must ensure that stealing of oil is 100percent eradicated in Nigeria and in the Niger Delta. We urge you to redouble efforts in completing the job of ending oil theft.
"This should be a morale booster. I leave you at the moment, but we will be coming from time to time. We are happy that we have made significant improvement in the fight against oil theft.
Also speaking, the Chief of Defence Staff, General Leo Irabor, said there has been an increase in crude oil production as a result of sustained fights by the military against oil theft.
"You recall that some months ago we were here with you on the order of the President. We are here again with the Minister for State, Petroleum, Timipre Sylva, to speak to you on bringing sanity in the oil and gas sector. Our crude oil production was going low, but we have observed that we are on the right side. There is a decline in oil theft.
"What this has indicated is that there is a need for everyone to have his hands on the plough, it's a collective effort."
For his part, the Chief of Naval Staff, Awwal Gambo, said the arrest of MT Heroic Idun shows that the fight against crude oil theft is real.
"The arrest of MT Heroic Idun will serve as a deterrence to those who are stealing our crude. By next Tuesday the vessel and its crew will be arraigned at the high court here in Port Harcourt."
Also, the Group Chief Executive Officer of NNPCL, Mele Kyari, commended the armed forces for the successes achieved in the fight against oil theft, and expressed optimism that crude oil theft will be terminated before the end of President Buhari's tenure.
Follow us on twitter