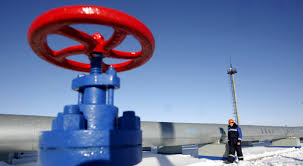 Moscow — A major pipeline that normally brings Russian gas from Poland into Germany has been switched to flow east, further boosting Europe's sky-high gas prices on Monday, although Poland said Russia was continuing to meet its contractual obligations.
Flows into Germany at the Mallnow metering point, which lies on the Polish border, stopped early on Saturday and have not resumed, according to data from Germany's Gascade operator.
The flows are in reverse and are expected to stay that way until at least Tuesday, according to the data.
Europe's gas prices have rocketed this year amid a surge in demand as economies recover from the pandemic and lower-than-normal storage levels heading into winter.
Some European policymakers have said Russia's Gazprom could do more, on top of meeting its contractual obligations, to help calm the rally.
The front-month Dutch benchmark gas contract was up 2% at 1303 GMT, after rising more than 11% earlier on Monday, with traders saying the reversed flows on the Yamal pipeline had taken the market by surprise.
However, Poland's gas monopoly said it continued to receive contractual volumes from Gazprom in full. "The contract is being executed. It looks like the contracted amounts are arriving (to Poland)," PGNiG said in an emailed statement.
Poland's gas grid operator Gaz-System said separately that gas from the Yamal pipeline flows to Poland through two points, Kondratki and Mallnow, and "there is currently no demand for gas transit towards Germany."
A Gascade spokesperson, commenting on the switch in the pipeline's direction, said it was "not unusual for shippers to use the eastwards direction."
Gazprom, which has said it is meeting its export obligations and that its output is running near all-time highs, did not reply to a request for a comment.
Its gas output reached 44.5 billion cubic metres (bcm) in October, the highest monthly figure since 2013, and exports to western Europe, China and Turkey rose to 159 bcm in January-October.
Russia has promised to start pumping gas to European storage once its domestic inventories are full. They reached the target level of around 73 bcm last week, but Gazprom plans to continue building them until Nov. 8.
German gas stocks on Saturday were at 71% of available capacity, European gas infrastructure group GIE's website showed, compared with 94% a year ago.
Russia sends gas to western Europe by several different routes, including through Belarus and Poland using the Yamal-Europe pipeline, which has an annual capacity of up to 33 bcm.
A gas transit deal between Russia and Poland expired last year, but Gazprom can book transit capacity via the pipeline at auctions.
At the last auction on Oct. 18, Gazprom booked some 32 million cubic metres per day, or 35% of total additional capacity offered by the Polish operator Gas System for transit via the Kondratki transit point for November.
Reuters (Reporting by Oksana Kobzeva and Katya Golubkova; additional reporting by Vera Eckert in Frankfurt Anna Wlodarczak-Semczuk in Warsaw and Susanna Twidale in London Editing by Emelia Sithole-Matarise and Mark Potter)
Follow us on twitter