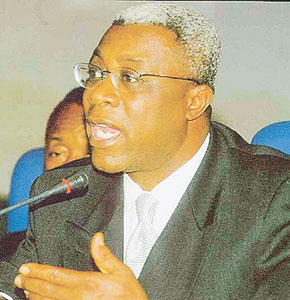 Peter Egwuatu
05 October 2012, Sweetcrude, ABUJA – IMMEDIATE past Chairman and Chief Executive Officer of the Nigerian Electricity Regulatory Commission NERC, Dr. Ransome Owan, has warned that the on-going privatisation of electricity distribution in the country may remain a mirage if adequate provision is not made to address the apprehension of rural communities in the new power distribution model.
Dr Owan noted that the preferred bidders are more likely to be inclined to focus on the urban centres where there is propensity for achieving high returns on investment at the detriment of the rural dwellers.
He said this is no time for experiment as electricity supply under the new model could be a security issue if left in the hands of inexperienced operators technical comprehensions that do not reflect the reality of the peculiarity of the environment.
"To take electricity to the rural and semi-urban communities however, there is need for the State Governments across the country to take more than mere passing interest in the new electricity distribution model in the overall best interest of the people of their respective states", he said.
Dr Owan who commended the Bureau of Public Enterprises BPE for a job well done so far admonished the privatisation agency to ensure that cynics of the entire privatisation process were encouraged to change the pervading apprehension in the land over the sincerity of the government to pick the most qualified bidder in terms of footprint, stakeholder knowledge and size of previous projects handled.
Speaking in the same vein at a business forum on Wednesday, the Managing Director, Bayelsa Electricity Company Ltd, Olice Kemenanabo noted that current inefficiencies in the power sector have brought about great expectation that the new entrants will address the identified shortcomings and make electricity consumers smile again based on the following criteria:
Size of utility experience of the bidders and Experience in rural and urban areas, the need for the state government's participation; are the Partners familiar with the terrain? Can the shortlisted distribution companies deliver; can they take power to the rural riverine areas?
According to Kemenanabo who doubles as Special Adviser to the Bayelsa State Governor on Power sector, ''We must ensure that we give it to somebody who has a track record of having done it before with great competence, stressing that loss reduction figures should not be a strait-jacket yard stick for selecting preferred bidders as against technical experience, size of previous operations and adequate knowledge of the local environment.
Kemenanabo, noted that State governments have to be stakeholders in the acquisition process, so as to get power to the rural areas seamlessly and tackle Right Of Way (ROW) issues and Area boys/community leaders' demands, stressing that, otherwise, the new model will be a total failure people in the rural and semi-urban areas have a sense of belonging in the new scheme.