…Traffic to PH refinery, Onne port, others affected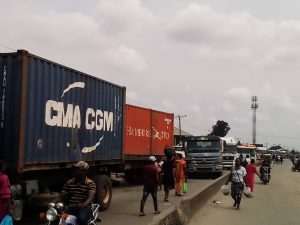 Mkpoikana Udoma
Port Harcourt  — Business activities in the Eleme-Ogoni axis of Rivers State were affected as youths Monday barricaded the East-West road, demandung the immediate reconstruction of the deplorable Ogoni section of the road by the Federal Government.
The youths blocked the road early in the morning and vowed not to leave until the
Federal Government rehabilitates the road. 
Fuel and articulated trucks got stuck in the ensuing traffic jam, making movement al
ong the Eleme-Ogoni axis of the East West road impossible.
The barricade also affected vehicular movement to important plants, organisations and agencies located along the road, including Onne seaport, Port Harcourt Refinery, Oil and Gas Free Zone Authority, Indorama Eleme Petrochemicals Limited, Notore Fertilisers, and Intels.
Leader of the protest and
President-General, Ogoni Youth Federation, Legborsi Yamaabana, said there would be no going back on the protest as it would continue until the Federal Government rehabilitated the road.
Yamaabana, who described the protest as '
Operation Occupy East-West Road', said the youths have been mobilised to run day and night shifts.
He announced a 14-day ultimatum to the Federal Government to repair the road, saying what was being witnessed was "Ogoni Youths' warning protest at Aleto Bridge by the Ogoni Youth Federation to commence the reconstruction of the deplorable Ogoni section of the East West road, together with four flyovers at Akpajo, Aleto, Alesa and Onne junctions respectively".
"After due consultation with various groups and critical stakeholders, the Ogoni Youth Federation in conjunction with other pan-Ogoni groups have commenced the mother of all protests, over the dilapidated state of the East-West road.
"The Ogoni axis of the East-West road is the only link to the Port Harcourt Refining Company, Indorama Petrochemicals, Nigerian Port Authority Onne, Oil and Gas Free Zone Onne and about 300 companies. Despite the huge economic value of the road, the Federal Government has refused to fix it, thereby inflicting hardship on our people and commuters.
"We have suffered for too long. Enough is enough! Come and be part of the move to alleviate the suffering of the people. History is our our side; God is on our side," the protest leader said.