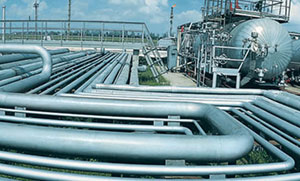 Yemie Adeoye
01 May 2012, Sweetcrude, LAGOS – GAS supply to the Escravos-Lagos Pipeline System (ELPS) which provides natural gas to key thermal power stations in the country has declined by over 180 million standard cubic feet (mscf) in the last few days, leading to a considerable loss of electricity and power rationing nationwide.
The Oben gas facility in Delta State, supplying gas to the Western axis, was shut down at the instance of the Shell Petroleum Development Company (SPDC) so as to carry out a leakage repair on the Ughelli-Sapele line.
Consequently, 1,200mscf of gas from Seplat, an indigenous upstream operator, is now stranded.
This development came on the heels of the ongoing maintenance work on the Chevron compressor in Escravos, Delta State, which began last week and has caused a loss of 30mscf.
According to the Minister of Power, Professor Bart Nnaji, "the total loss of natural gas supply in the wake of both the routine maintenance and the leakage repair has meant a loss of 625Megawatts, an awful loss, indeed, for a nation which used to generate 3,800 MW by last May and now produces 4,400MW".
He named the power plants affected by the gas cutback as Egbin (the nation's largest power facility located in Lagos State), Sapele (operated under the National Independent Power Project) and Ughelli in Delta State, Geregu in Kogi State, Omotosho in Ondo State and Olorunsogo (Phase2) in Ogun State.
Apologising to Nigerians for the decline in electricity, Professor Nnaji has assured the nation that normal power supply will be restored within five days.
He said that some concrete steps have been taken to minimise the impact on electricity supply when routine maintenance work is carried out on gas pipelines, saying that henceforth all international oil companies (IOCs) must inform the Ministry of Power and the Ministry of Petroleum Resources at least 90 days ahead of schedule.
The Minister also disclosed that both ministries and their agencies now meet every month to undertake a prognosis of gas supply to electric power stations in the country.