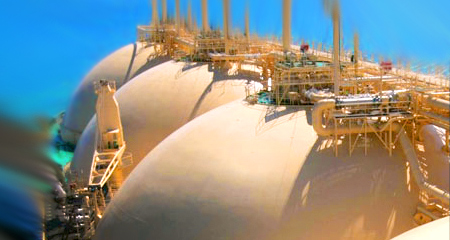 Singapore — Asian spot liquefied natural gas (LNG) prices eased from the highest level in five months after workers at Australia's Woodside Energy ruled out the possibility of striking work, bringing relative calmness to a market hit by extreme volatility in recent days.
The average LNG price for October delivery into north-east Asia LNG-AS fell to $13.00 per million British thermal units (mmBtu) from $14.00 the previous week, industry sources estimated.
Global LNG markets this week were roiled by news of potential strikes over pay and working conditions at facilities owned by Woodside Energy and Chevron, which cumulatively account for 10% of global LNG supply.
Offshore LNG workers supplying gas to Woodside's North West Shelf LNG plant voted to avert a strike on Friday, agreeing to a preliminary deal between the unions and the company.
Prices rose sharply on Monday and Tuesday due to worries over supply disruptions due to potential strikes and began falling from Wednesday as the probability of strike action decreased and eventually culminated in Woodside's in-principle deal with unions.
"It has very much been a week of two halves," said Samuel Good, head of LNG pricing at commodity pricing agency Argus.
However, unions representing downstream workers at the Chevron-operated Gorgon and Wheatstone projects have voted to authorise a strike, criticising the company for not going through the bargaining process.
Good said there was still some uncertainty over Australian LNG, should Chevron not offer an industry standard enterprise agreement. The Gorgon and Wheatstone projects together account for over 5% of global LNG production capacity.
"JKM-TTF spread is currently trading at a premium as JKM prices continue to price a higher risk of strikes at Chevron's Western Australian facilities," National Australia Bank said in a note on Friday.
Despite sparse direct trade between Europe and Australia, Dutch and British wholesale gas prices were volatile. Prices fell sharply on Thursday after Woodside struck a preliminary deal with unions but rebounded on Friday as strike risks at the Chevron facilities loomed.
High gas storage in Europe and northern Asia has kept a lid on prices since the beginning of the second quarter, compared to levels seen at the beginning of the year.
Liquefied natural gas (LNG) stockpiles held by utilities in top importer Japan hit more than one-year lows and slumped 2 million metric tons lower than the long-term average, data showed this week, as the hot summer drove usage of air-conditioners and typhoons delayed cargoes.
However, an official at Japan's Ministry of Economy, Trade and Industry said the government believed the fall was temporary and did not pose a threat of LNG shortage.
Argus assessed the north-west Europe DES price at $13.13/mmBtu as of 24 August. (Reporting by Sudarshan Varadhan; Editing by Janane Venkatraman) – Reuters
Follow us on twitter