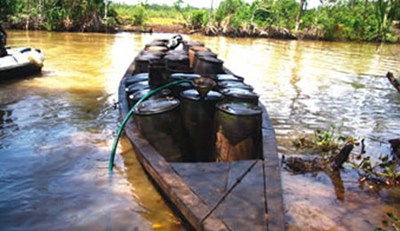 *Drums of oil recovered from suspected bunkerersMkpoikana Udoma
Port Harcourt — 
The South-South Youths Initiative has accused members of the Independent Petroleum Marketers Association of Nigeria, IPMAN, and the Nigerian Union of Petroleum and Natural Gas Workers, NUPENG, of involvement in
illegal oil bunkering in Rivers State
.
National President of South-South Youths Initiative, Mr. Imeabe Savior Oscar, said the recent protest embarked upon by members of NUPENG against the Rivers State Commander of the Nigeria Security and Civil Defence Corps, NSCDC, was corruption fighting back.
Oscar, in a statement sighted by SweetcrudeReports, said the former NSCDC boss in Rivers State, Michael Ogar, was able to fight oil theft and illegal oil bunkering activities in the state to the barest minimum and was professional in his conduct, adding that Ogar should be commended for his efforts in restoring sanity and reducing soot caused by illegal oil bunkering in the state.
The statement read: "We, the leadership and members of South-South Youths Initiative express deep regrets over the unfounded allegations against the outgone Rivers State Commander of NSCDC, Ogar Besong Michael, on the claims that he acted unlawfully in arresting and selling of trucks caught conveying illegally refined petroleum products.
"Under his watch as the Commander, a lot of success were recorded, many suspected vandals and oil thieves were arrested, trucks were also impounded. We make bold to state that Ogar's actions against oil thieves affected a lot of the big masquerades involved in this illicit act that they only want him out of the state so they can have a field's day in their crime."
It added: "In the recent case that prompted the protests by members of NUPENG and IPMAN, a court of competent jurisdiction before His Lordship, Hon. Justice S.I. Mark, in Port Harcourt had, based on Suit FHC/PH/MISC/470/2022 filed by the Attorney General of the Federation (applicant) and some unknown owners of abandoned tankers (respondents), gave an interim order for the forfeiture of three trucks involved in illegal business to the Federal Government.
"His (Ogar's) action was totally justified because he only acted based on the order of court as sought by the Federal Government that he represents here.
"His actions, in the stated court order above, were backed by law. But we do understand that the underlying fact that beats our imagination is that some top members of NUPENG and IPMAN are involved in oil bunkering. It is like a case of corruption fighting back. Because this top personnel understand that Ogar has remained a bone in their throats they wanted him out of their way at all cost.
"We are pleased to state that despite all efforts by oil thieves in the region, Ogar has maintained his high integrity. He has remained professional in his line of duty.
"We are calling on the court who gave the interim order to go after members of NUPENG and IPMAN for contempt of court. The people involved in undermining the order of court should be arrested and prosecuted accordingly.
"We are also calling on the Commandant-General of NSCDC, Dr Ahmed Audi, not to allow self-centered politicians and individual to be deciding factors of his action against his men and officers, rather his actions should be guided by fact and professionalism."