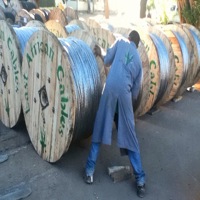 13 Decemebr 2012, Sweetcrude, Lagos – The Cable Manufactures Association of Nigeria, CAMAN, on Wednesday urged the Federal Government to give more empower to the Standards Organisation of Nigeria, SON, to destroy fake electricity cables and other substandard products in the country.
The National President of CAMAN, Mr Ifeanyi Uzodike, made the call during an interaction with newsmen in Lagos.
Uzodike said that such an authorisation would give SON more power to storm markets and other outlets suspected to be supporting the sale of substandard cables into the country.
"It is such power that will enable the government to win the war against substandard products. Certain stern measures needed to be taken, they include breaking into ware house, where such fake products are stored, and destroying them," he said.
The president implored the government to provide sufficient back-up for the organisation's campaigns to succeed.
According to him, such empowerment should include express authorisation for the SON to destroy any facility found to be warehousing substandard products.
The call came on the heels of substandard cables recently seized by the SON.
He underscored the danger that the country was likely to face if substandard products were allowed to enter the country.
"The first is threat or actual loss of human lives and property, and on the long run, a big dent on the image of the country and its citizens," he said.
Alluding to the seizure, the president said that it was sabotage as it drained the nation's resources.
"It also hinders the efforts of the Federal Government in providing jobs and better living conditions for its citizens," he stated.