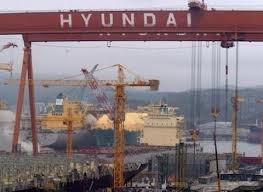 Samuel Oyadongha
18 December 2012, Sweetcrude, Yenagoa – Four Korean nationals and two Nigerians working with the ship Building Company, Hyundai Heavy Industries Limited, were Monday kidnapped by gunmen along the Odioma creek in the Brass Local Government Area of Bayelsa state.
The gunmen, armed with sophisticated weapons, reportedly hijacked the company's boat conveying the workers to the Ship yard and selected their targets.
While some claimed the abduction occurred at about 3pm, others said it occurred earlier, close to the Odioma creek.
An indigenes of the Okpoama community and a media practitioner told newsmen that the gunmen, after abducting the workers, asked the boat driver of his identity and community.
The unidentified boat driver told them that he is an indigene of Okpoama community and he was ordered to jump into the water and was reportedly rescued by a canoe passing by.
The Police Public Relations Officer, PPRO, Fidelis Oduuna confirmed the incident.
He said the Commissioner of Police, Kingsley Omire has directed that detectives be deployed to the community.
"At about 15.30 hours today, some armed men went to a Chinese company, Hyundai, located in a forest by the Atlantic Ocean beach and kidnapped four expatriates and two Nigerians. The Police are on top of the situation and the Commissioner of Police has already deployed a crack team of detectives to the area. The Police are going to beef up security around all companies that have expatriates and ensure that kidnappers do not have the opportunity to carry out further kidnappings. Bayelsans should go about their normal business, as the Police would not abdicate its responsibility to protect lives and property," he said.