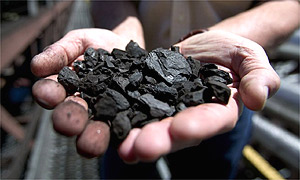 28 June 2013, Cairo – After the Egyptian government recently announced its intent to import coal as an alternative source of energy, a number of rights organisations have issued a warning statement condemning such intent.
The warning came after the government called on local plants of energy-intensive industry to use coal because of the continuous shortage in gas and electricity supply in Egypt.
"In terms of environmental and economic realms, the government's decision neglects dangerous pollutants and greenhouse gas emissions resulting from the burning of coal, and the magnitude of hazardous pollutants and radiation as the main cause for diseases and health risks worsened for incinerator workers or residents in the surrounding area," Hoda Baraka of Green Peace International Organisation said.
According to statements published recently in local press, the Ministry of Industry plans to transform existing and planned cement plants to rely on coal. It would also expand towards converting energy-intensive industry sectors towards coal. It also intends to run three power plants under construction on coal.
The organisations that signed on the warning statement include the Egyptian Initiative for Personal Rights, EIPR, Greenpeace, 350.org, the Arab Youth Climate Movement, AYCM, the Egyptian Center for Economic and Social Rights, ECESR, the Hurghada Environmental Protection and Conservation Association, HEPCA, the Nature Conservation Egypt, NCE , the Green Arm – Nahdet Al Mahrousa, the Egypt National Climate Change Coalition, ENCCC, Dayma and the Association for Health and Environmental Development, AHED.
Their signing this statement strongly emphasizes the adverse effects of coal usage on more than one level, according to rights organisations.
"There is also a disregard for the harm caused by coal-run plants on soil and water quality in the areas exposed to the emitted pollutants. Not to mention the cost of dealing with thousands of tons of solid waste generated from burning coal, which is waste containing several extremely hazardous substances," Baraka added.
On the business sector, the idea is totally welcomed by business owners who find coal usage the only alternative to the current daily losses in plants production.