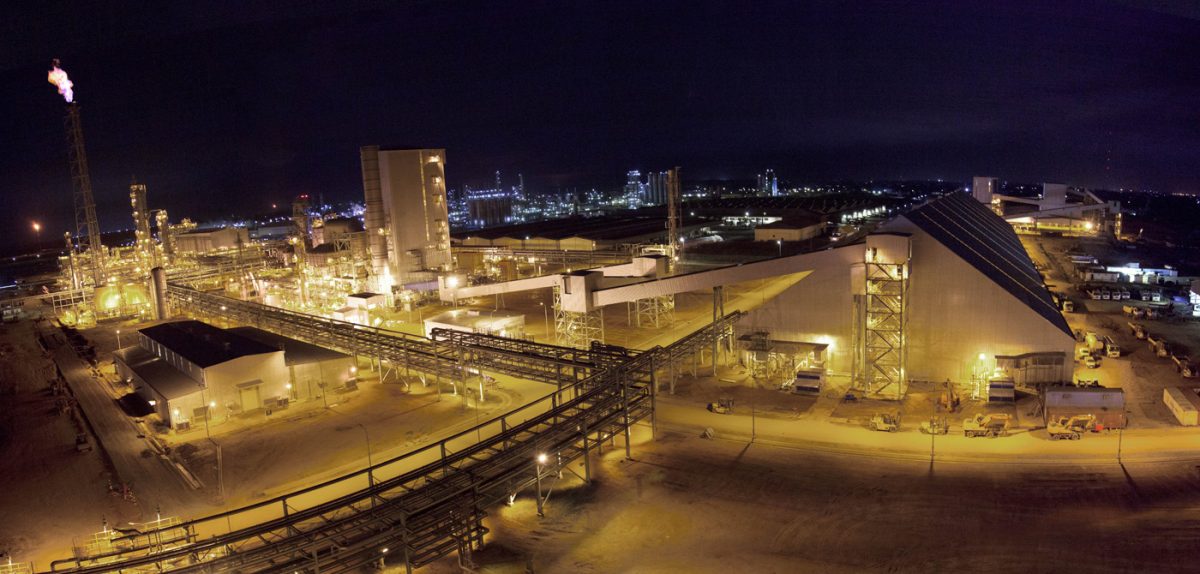 *Facility supports Nigeria's agricultural sector & economic diversification
22 June 2018, Sweetcrude, Lagos, Nigeria – IFC, a member of the World Bank Group, today announced a new $1 billion debt financing for Indorama Eleme Fertilizer & Chemicals Limited, Nigeria (a subsidiary of Indorama Corporation), for the construction of a new fertilizer line.
The new line will expand its capacity of urea fertilizer to more than 2.8 million tons.
IFC will directly lend $100 million and mobilize an additional $850 million of loans from other developmental financial institutions and commercial banks. Another $50 million in financing will be available from IFC's Managed Co-Lending Portfolio Program. Joining IFC as Joint Mandated Lead Arrangers (including as lenders) are European Investment Bank, YES BANK, CDC Group PLC, African Development Bank, Bank of Baroda and Standard Bank. Also supporting the financing are Standard
Chartered Bank; Bangkok Bank; FMO; DEG; PIDG company, the Emerging Africa Infrastructure Fund; PROPARCO; ICICI Bank Limited; and Citibank. A large number of participating banks signals a strong endorsement of the project, Indorama, and the country by the syndicated loan market lending through a blend of IFC A and B Loans and uncovered facilities.
"Nigeria has enormous potential to achieve agricultural self-sufficiency and food security which is evident from the multi-fold increase in domestic fertilizer consumption after the start of Indorama's first plant.
Nigeria has also become a major hub for urea exports. With Line 2, we aim to further expand our ability to provide competitively priced and high-quality fertilizer to farmers in West Africa and across the globe.
Indorama is looking forward to continued contributing to Nigeria's economic development", said Manish Mundra, CEO, Indorama Africa.
Sérgio Pimenta, IFC Vice President for the Middle East and Africa said, "IFC aims to support Nigeria's efforts to strengthen its manufacturing base and improve the stability of its financial system through greater foreign exchange earnings from exports. With Eleme, IFC is also a partner in helping farmers in West Africa increase their food production and incomes."
Amit Lohia, Group Vice Chairman, Indorama Corporation said, "This financing reflects our strong partnership with IFC over a span of almost three decades. We are extremely pleased to bring our financial partners to Nigeria on the back of this strong partnership."
Significant amounts of natural gas are wasted in Nigeria due to gas flaring. According to the World Bank, over the past three years, Nigeria has flared an average of 750 million cubic feet per day of associated gas. Utilization of gas for downstream chemical industries such as fertilizer helps reduce gas flaring, a contributor to greenhouse gas emissions associated with climate change.
IFC
IFC—a sister organization of the World Bank and member of the World Bank Group—is the largest global development institution focused on the private sector in emerging markets. We work with more than 2,000 businesses worldwide, using our capital, expertise, and influence to create markets and opportunities in the toughest areas of the world. In FY17, we delivered a record $19.3 billion in long-term financing for developing countries, leveraging the power of the private sector to help end poverty and boost shared prosperity.
Indorama Corporation
Indorama Corporation is one of Asia's leading chemical holding companies with subsidiaries and affiliates in Asia, Africa, CIS and the Middle East manufacturing Polyethylene, Polypropylene, Polyesters, Fertilisers, Textiles and Synthetic Disposable Gloves.