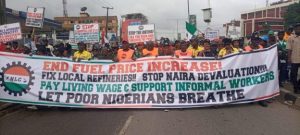 Mkpoikana Udoma
Port Harcourt — Organised labour in Rivers State have charged the Federal Government to fix the nation's four ailing refineries and stop importation of fuel to make life easier for the ordinary citizens.
The protesting workers, numbering over 1,000 and holding placards with different inscriptions, such as "Tinubu, allow us to breathe", called on the government to reverse all anti-workers policies.
Chairman in Rivers State, Alex Agwanwor, maintained that the importation of fuel was responsible for the increase in the pump price of petrol.
Agwanwor said the salaries of workers cannot cater for their basic needs, including feeding and school fees for their children, accusing the federal government of making the poor to get poorer.
He said: "They should allow us to breathe, because we are not breathing well. Government must reverse all these policies and put our refineries in order.
"If we have local production of petroleum products, then we can deregulate, the price cannot be like this.
" It is the cost of importation, the cost of refining abroad, that is why we are suffering. From today, we say no to it. We are tired. We cannot continue like this. We cannot be suffering and smiling.
"We must resist, we must protest and if they say they are responsible to the people, they should hear our cry and reverse these policies."
Receiving the protest letter, Rivers State governor, Siminilayi Fubara, assured the protesters that their demands would be forwarded to the federal government.
Fubara, represented by the Chief of Staff, Government House, Chidi Amadi, urged the protesting workers to be patient, as he was working to relieve the plight of the people by rolling out free buses to cushion the effects of the subsidy removal.