24 September 2014, Lagos – Managing Director of Industrial and General Insurance Plc (IGI), Mr. Rotimi Fashola, in this interview with Nnamdi Duru, spoke on the need for a level playing field for both local and foreign operators in the Nigerian insurance market. Excerpts: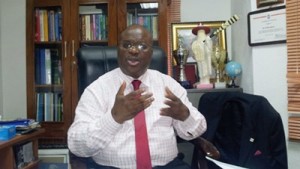 What does the issue of technology, research and development for insurance service delivery mean to you as a practitioner?
Honestly, that is the way to go now. Before now many of us were looking at how to do agricultural insurance to enhance production and
delivery.  The issue has always been that we were not doing well as far as insurance generally is concerned in Africa. The problem is that we have not been able to deploy effective technology to support what we are doing like they are doing in other advanced countries.
Some of us have come to recognise that unless we apply this technology to our business we will not be able to deliver as much as we need to do. Certainly, it is a way to go and because of that we shared experience on the issue how to use technology to improve agricultural insurance business in Kigali Rwanda recently.
From all over Africa, insurance practitioners met in Kigali for us to share in the experience of those who have been able to deploy it successfully and what they have been able to do with it so that those of us who have not been able to deploy well could learn from the experience and challenges faced by those who deployed it successfully. So it is a continuous thing and we are happy that everybody realised that this is the way to go.
Enhancing agricultural productivity through agricultural insurance product Well back home and historically we have agricultural insurance in Nigeria and it has always been government all the way and not everybody likes to associate with government. Now that private companies have been licensed to transact agricultural insurance business including my company, Industrial and General Insurance Plc (IGI), it has been a very good experience because we have many people also coming to look at the opportunity of doing such insurance business with private companies.
Also those banks that were not too keen about doing business with the government are now beginning to talk to those of us who have licence on the agricultural side. So, it is growing and the whole idea is not just for those of us in Nigeria, other African countries are still at variance society as you know, particularly those of us who are doing business outside Nigeria we also create that opportunity for them to talk to us and see how they can do agricultural insurance from the government side and the private sector side too.  So the two are exchanging, Gambia, Rwanda, etc are doing it too.
Some South African and European insurance groups are coming into the
Nigerian market, are you threatened in any way by their coming?
Not, at all. We are not threatened. Globalisation is taking its own course and one cannot stay in one place to do everything, people will come to Nigeria and we too will go to other countries. When we came to Rwanda people were scared to deal with us but they have grown to know that we are only here to exchange ideas and expertise and to see how to promote the African insurance market.  At the end of the day, it is a win-win situation.
Those who are coming to Nigeria are going to work with Nigerians and whatever they bring will create something for those of us that are there and so we can also improve on our own line of business too. So it is not a threat just that we are asking for a level playing field for everybody because we tend to pamper foreigners here in Africa. We tend to feel that coloured people are superior and we tend to serve them better than our own people. So that is what we do not want.
If they come, let there be a level playing field not the other way round. Not that they will be treated better than those of us on ground. For those of us who have also gone to other places we bend our heads when we get there to see how we can work with the people there. At the end of the day the whole thing is to create way for the African insurance market to thrive for Africa's development.
IGI has a subsidiary in Rwanda and other African countries, what has been your experience  in that country been?
We own about 65 per cent of Sonarwa, naturally it is a subsidiary of IGI and it is a leader among the very few insurance companies in that country. We have a Nigerian as managing director with a very deep knowledge and I am sure the market is also taking that advantage.  So far it is a growing thing and like I said initially, we had challenges but I think we have surmounted them. The company is growing.
To me it is a growing thing, five years to me is still very short time to assess things. But naturally when you first get to a place like you know people will first of all resent you and after sometime they will relax but like I said it is going to be a win-win situation. There are things they will learn from us and we will also have some things to learn from them and at the end of the day, we will partner and grow businesses together. I think that is the whole idea about African Insurance Organisation (AIO).
– This Day