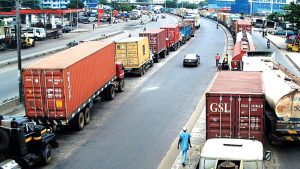 Vincent Toritseju
Lagos — There are indications that the leaderships of Local Government Councils and Local Council Development Areas, LCDAs, have compromised the directives of the Lagos State Governor, Babatunde Sanwo-Olu, to get rid of touts and other non-state actors extorting money from trucks along the Lagos Port corridors.
Port industry sources also alleged that these leaders may have soiled their hands in the illegal collections, a situation which may have made it difficult for them to carry out the Governor's directive.
Recall that Sanwo-Olu, early last year, directed all Chairmen of LGA and LCDA to ensure that no form of extortion takes place within their areas of jurisdictions.
But findings as well as the views of the stakeholders in the ports industry have indicated that the extortions have escalated, as collection points observed by Vanguard have increased across all the LGAs and LCDAs.
Speaking to SweetcrudeReports, Alhaji Kayode Odunowo, Chairman of the Lagos State Chapter of National Association of Road Transport Owners, NARTO, said that the extortion by area boys and hoodlums have continued unabated adding that the chairmen have all failed to stop the illegal collections as directed by the Governor within their area.
He, however, accused the leadership of the Lagos State Park and Garage Management Committee engaging their members in this menace.
He said: "The leadership of the Lagos State Park and Garage Management Committee and their boys are the ones involved in this issue of extortion across the state.
''It will not take government a day to stop this whole nonsense of extortion if the government does not have an interest in the matter''.
Odunowo also accused Mr. Sola Giwa, Special Assistant to the Lagos State Governor on Transportation, of not doing enough to checkmate the activities of the hoodlums despite evidences of bodily injuries done to truck drivers and forms of unapproved ticket sales.
About two weeks ago, the extortionists introduced yet another toll known as 'Community Money' otherwise known as 'Owo Adugboo' of N5,000 per truck for passing through their community.
Recall that the state government met with all LGA and all LCDA Chairmen where a consolidated ticket was agreed upon and approved by all stakeholders.
It was agreed that all commercial buses will pay a daily sum of N800 per bus per day and N2,000 for a truck per day.
But responding to the development, the Chief Press Secretary to Apapa Local Government Area, Mr. Seun Gbokoniyi, said that the management of the Apapa Local Government has adhered to the directive as there is no extortion in Apapa anymore.
He stated: "I am pleased to let you know that the Apapa Local Government Chairman has adhered strictly to the Governor's directive. There is nothing like extortion within and around Apapa Local Government."
Follow us on twitter