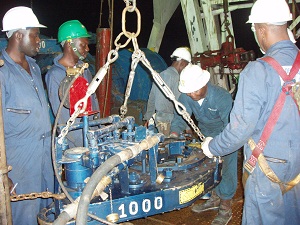 Rosemary Onuoha
4 October 2011, Sweetcrude, Lagos- Loss adjusters in the insurance industry have hailed the Local Content Policy of the federal government, saying that the initiative has the potential to boost their earnings.
Immediate past president of Institute of Loss Adjusters of Nigeria (ILAN) and president of the International Federation of Adjusting Association, Mr. Darlington Mgbojikwe who made this assertion noted that the Local Content Act has the capacity to bring more funds into the industry which will trickle down to loss adjusters.
In his word "I believe that with the new Local Content Policy of the Federal Government of Nigeria, it is now going to bring a lot of fund for insurance underwriters. In the near future they will start to handle big claims and big claims translate to big fees for the adjuster, maybe then things will get better."
Mgbojikwe stressed that he is happy that the Local Content Law is working, adding "I can see that a lot of risks are now being domiciled in Nigeria and the fact that many adjusters are coming to work with local firms."
Meanwhile, Managing Director of Law Union & Rock Insurance Plc, Mr. Yinka Bolarinwa has said that underwriters have not been very proactive in capitalising on the benefits of the Local Content Policy.
According to Bolarinwa, the Local Content Policy is a key infrastructure of growth for the insurance sector which the government provided on a platter of gold, but it is yet to be put in good use.
In his words "There is a guideline on this Local Content Act which stipulates that 70 per cent of non-life risks in the oil and gas sector must be domiciled in Nigeria while 100 per cent of life business must be done in Nigeria. To me that is the infrastructure we need but we are still groping in the dark."
On what operators need to do, Bolarinwa stated that underwriters should collaborate and work together as one team to develop capacity, human capital as well as skills that will be able to match the demand from local insurers.
He stated "Nobody can love this country more than you and I. it is you and I that must do it and build this country. So insurers must collaborate, work together and ensure that the Nigerian model work for us. I must tell you the truth; we have not started penetrating the oil and gas market. So we need to collaborate and work harder.
The Nigerian Government has said 'this is what I want in my country,' so if the oil majors don't corporate with Government they should be shown the way out."
He charged underwriters to ensure that the Local Content Law works, stating "This is our country, the oil majors should not dictate what happens in our country for us. If they don't comply with the law of the land they should leave. So you and I must not also be saboteurs, we must ensure that we collaborate with government so that it works. No outsider will come in here and do anything that is not in line with the law except you and I connive with them."