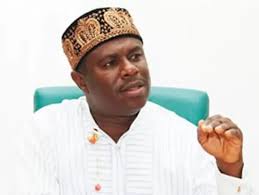 01 July 2017, Sweetcrude, Lagos — After years of uncertainty, the Federal Government has given the management of the Maritime University of Nigeria Okerenkoko, Delta state the go-ahead to commence academic activities.
While disclosing this in Port Harcourt yesterday at the celebration of World Seafarers' Day tagged Seafarers' Matters, the Director-General of the Agency, Dr Dakuku Peterside said the academic session in the university will begin by October 2017.
Peterside also said that the Agency was at an advanced stage of placing 943 NSDP Cadets onboard vessels for requisite Sea time training.
NIMASA boss explained that the establishment of the University will sustain efforts of the agency towards building requisite capacity for the nation's maritime industry.
He said "Permit me to state that the government is revisiting the establishment of the Maritime University at Okerenkoko, Delta state and the acting President, Prof. Yemi Oshibajo has directed that academic activities should start by October this year.
"Also, other Institutes for maritime studies in six universities across the country are sustainable efforts by the agency towards building the requisite capacity for the industry."
Peterside who is also the Chairman of Association of African Maritime Administrations (AAMA), said due to the importance of seafarers to world trade and economy, they occupy a pride of place in the agency's activities.
"For us in NIMASA, the seafarers will continue to occupy the pride of place in our activities which explains why priority attention is being paid to the development of human capacity through the adoption of a multi-strategy approach aim at encouraging the young school leavers to take a career at sea as cadets through the National Seafarers Development Programme (NSDP)."
Speaking on the arrangement to put NSDP Cadets on vessels for Seatime, Peterside said, "Permit me to also mention that arrangements are at an advanced stage for the placement of 943 cadets of the NSDP on board vessels for their mandatory Seatime."
"The purpose is to ensure that the country has the adequate skilled manpower for the maritime industry especially in meeting the demands of the Cabotage regime.
"In this regards, the Agency in March this year facilitated the training of 428 seafarers on mandatory courses and other specific areas of specialisation for career progression."
The DG also disclosed at the event that the agency has so far facilitated training for 2,259 young Nigerians in various fields of maritime studies I globally reputable maritime institutions.
"The agency has so far facilitated the training of 2,259 young Nigerians in various fields of maritime studies in reputable maritime institutions in the United Kingdom, Egypt, Romania, India and Philippines," he said to the cadets.