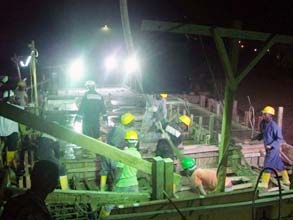 02 May 2013, Sokoto – Governor of Sokoto State, Alhaji Aliyu Wamakko, says the ongoing N3.8 billion Independent Power Project, IPP, in the state would be ready soon.
Wamakko stated this as he inspected the last consignment of electrical components for the project at the IPP site at Arkilla area of Sokoto metropolis.
According to the governor, the power project would be a successs, contrary to the opinion of critics, who claim the project would not be completed.
He stated that with the arrival of 12 containers of power components in the state, the project was expected to be completed before the end of the year.
"As you can see, the project is on course, the last consignment of 12 containers from Dubai have arrived Sokoto consisting of electrical components and equipment.
"So, all the materials needed are on ground at the project site and hopefully it would be completed before the end of the year," Wamakko said.
He emphasised that all the engineers were at the site and working hard to ensure that they deliver the plant in line with contractual agreement and according to specification.
Wamakko said the project, when completed, would provide the state with 38 mega watts of electricity.