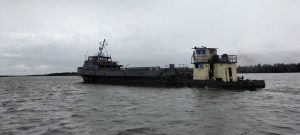 Mkpoikana Udoma
Port Harcourt — The Nigerian Navy has set ablaze a vessel, MV Cecilia Imo, caught with suspected illegally refined Automotive Gasoline Oil, commonly known as diesel in Gbalajam, Woji area of Port Harcourt, Rivers State.
Recall that the 350,000 litres capacity vessel, as at the time of its arrest last week, was laden with about 250,000 litres of AGO with three suspects on board.
Commander of Operation Delta Safe, Rear Admiral Olusegun Ferreira, who paraded the vessel explained that MV Cecelia Imo had been inactive for two years but was used as a storage tank for illegally refined petroleum products.
Ferreira represented by the Maritime Component Commander, OPDS, Commodore Adedokun Siyanbade, had assured that actions will be taken against the vessel with the arrested suspects, in line with the extant regulations binding on OPDS operations.
"The vessel has a capacity of 350,000 litres, even the water tank has been converted into a fuel storage tank for this illegal product and the vessel hasn't been to sea for the past 2years. It was expected to be under maintenance whereby illegal refiners bring their products for storage and sales.
"The vessel has been arrested and necessary procedures will be taken in line with extant regulations binding on OPDS operations."
Destroying the vessel, operatives of the Nigerian Navy Ship, NNS Pathfinder acting 'under extant regulations' escorted the vessel far into the deep waters, before setting it ablaze.
Meanwhile, the Commander of NNS Pathfinder, Commodore Desmond Igbo, has warned that the Navy will not rest on its oars in arresting all economic saboteurs in the region.
"The mandate and directive of the CNS, Vice Admiral Emmanuel Ogalla, to us that we should carry the fight to the criminals, and this is one of it. We are not relenting, we are poised, and we are going to meet them in the creeks, even before they start planning, we will be there day and night to catch them.
"All illegalities and those who are perpetrating it, this is a warning for them to desist or else we will catch them wherever they are. This is just the beginning, all those who are involved in this illegality will be brought to book. The vessel owner, his suppliers, buyers and everyone connected; we will get them."