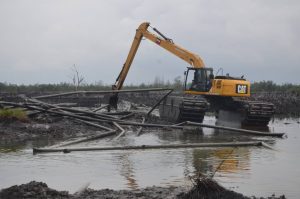 – Nabs four suspected oil thieves
Mkpoikana Udoma
Port Harcourt — The Nigerian Navy Ship, NNS Pathfinder, at the weekend dismantled and excavated an over 2KM illegally attached oil pipeline from well 17, within OML18 oilfield operated by NNPC Ltd. in Elem-Krakrama creek, Degema Local Government Area of Rivers State.
It was gathered that the wellhead has just been fixed and not yet commissioned for use by NNPCL, while oil theives where already stealing crude from it, having mounted an illegal tapping point of 8inches pipeline running over 2kilometers in multiple directions into the creeks.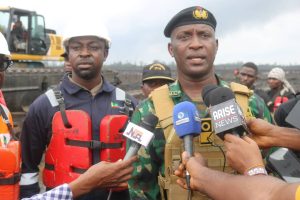 NNS Pathfinder had uncovered two tapped wellheads at Kala-Ekweama and Elem-Krakama creeks in Asari-Toru and Degema within OML18 field, thus moved its swamp bogey into the creeks to excavate the pipes, as luck ran out of four suspected oil thieves who got arrested in the process.
Supervising the excavation of the illegal pipeline in collaboration with officials of NNPC Ltd, the Commander, NNS Pathfinder, Commodore Ibrahim Suleiman, said the oil theft point was spotted by Naval's patrol helicopter.
Suleiman expressed shock at the level of sophistication of the oil thieves, saying such large-scale theft cannot be masterminded by petty thieves or amateurs but a syndicate of high-level experts.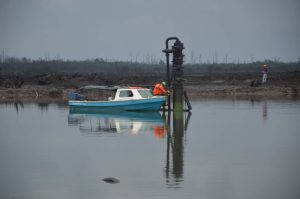 The NNS Pathfinder boss further said the Navy was already tracking the people involved, saying that though no arrests have been made in relations to the theft point on OML18 wellheads, the Navy was working with sister security agencies who specialized in such investigations.
"We came here with officials of NNPCL operators of OML18. We came with our heavy-duty equipment to make sure we dismantle the illegal structures that are being used to siphon crude illegally. A lot of pipes have been recovered from the wellhead and we have disconnected where they are being connected to.
"As an individual what I have seen here is way beyond what I have seen elsewhere. The level of sophistication is beyond our imagination. The individuals involved had taken their time and done a lot of measurements and a lot of welding was done here."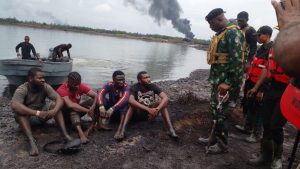 Meanwhile, operatives of NNS Pathfinder while on patrol with Krakrama creek, apprehended four suspects engaged in illegal diesel bunkering.
The four suspects, who claimed to be indigenes of Southern Ijaw in Bayelsa State, upon interrogation, claimed that they were paid between N15,000 and N20,000 to transport illegally refined diesel from the creeks to Borokiri area of Port Harcourt.
One of the suspects identified as Morrison, who claims to be a graduate said, "I came to hustle in the creek. I came to Krakrama to buy diesel from a man named Oboy. I was contacted by an agent. Along the line, we were arrested by the Navy patrol team."
However, the NNS Pathfinder Commander, assured that the four suspects will be handed over to the prosecuting agencies for further investigation and prosecution.
Follow us on twitter