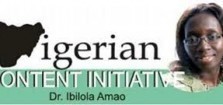 23 October 2012, Sweetcrude, Lagos – I received a very heart wrenching email from a Bayelsa State Gubernatorial aspirant who visited his home State, Bayelsa for a first hand engagement after the floods between the 9th –and 11th of October. After reading his email, my heart bleeds for Bayelsa and Bayelsans. The goose that lays our golden egg.
I am told that the floods have devastated the environment, some communities have been submerged under water whilst hundreds of people have been displaced. The major road linking the Niger Delta University in Amasoma to Yenagoa the State capital has been broken at multiple points and as a result it is no longer passable for vehicles. The University town has been cut off as a result of the flood and the Practical Nigerian Content Conference, which was scheduled to be held in Yenagoa in October has been postponed.
Many homes made of mud have completely crumbled as a result of the flood waters and some others that haven't crumbled are so deeply submerged in water that they are now uninhabitable. Farmlands have been wiped out by the floods. Poor people who practice subsistence farming are now totally impoverished and practically reduced to penury. Many fish farmers have also lost all their fishes as the floods have swept away fish from within the fish farms. The threat of an epidemic now exists as people are now without clean water, there is a shortage of food and a likely epidemic of malaria due to mosquito bites.
After a flight over the terrain, Mrs. Alison-Madueke expressed shock at the level of devastation inflicted on the communities by the flood. She confirmed that Bayelsans are actually facing a crisis situation and must act swiftly and collectively to seek a robust solution to the disaster. Bayelsa is today crying out for its own Sheikh Rashid bin Saeed Al Maktoum (Dubai). The search is on for an out-of-the-box thinking visionary who is patriotic enough to put state and or nation before self to create a future for unborn Bayelsans.
Looking at the De Bono: Six Hats Thinking Strategy system, I would enjoin the President of Nigeria, the Minister of Petroleum Resources, the Executive Secretary of NCDMB and the Governor of Bayelsa State to embark on a self, corporate and holistic audit of what should, can and must be done to alleviate poverty and bring Bayelsa State out from this near catastrophe to the place where it rightfully belongs.
To effect the much desired change, the best place to start is by creating or generating extremely good iIdeas. Someone somewhere must start from writing down new and fresh ideas for Bayelsa. Every idea no matter how trivial or fanciful must be penned down, brainstormed, reasoned through divergent and out-of-the-box thinking and the best of them turned into action. Someone somewhere who is patriotic enough should kick or jump-start the much needed transformation and work through the way forward. The way forward would require more of energy to work out and work through the ideas as it is the imagination backed with action only that can transform and harness what is beneath the ground in a manner such that it benefits those that are above the ground.
How I so wished for a moment that I was from Otuoke in Bayelsa State and the President of Nigeria or the King, His Royal Majesty, King Dr. Edmund M. Daukoru, FIC, CON Mingi XII, Amanyanabo of Nembe (former Minister of Petroleum) then I would have through: time travel, teleportation, attribute change, rolestorming, gap filling, group ideation, mind mapping, SWOT Analysis etc with my people find lasting solutions.
Bayelsa has the human resources to make the flood experience a turning point in its history. The strategic location of NCDMB in Bayelsa State is designed to achieve a few key goals such as;
1. Open up infrastructural development
2. Create awareness of the value chain such that locals can add value and be empowered
3. Attract foreign direct investment and bring development to the area
4. Generate goodwill and the interest of the stakeholders in the Oil and Gas industry
Now is the time to test Nigerian Content, local and community content and through the application of the fundamental of Hydraulic Engineering, Water Engineering, Offshore Engineering, Health, Safety and the Environment's principles rewrite the history of the place that has so much for Nigeria. This is a true test of Nigerian Content.
Dr. Ibilola Amao is the Principal Consultant with Lonadek Oil and Gas Consultants, a firm of technical consultants with their core competence in the area of Local Contenthuman capital and vendor development.