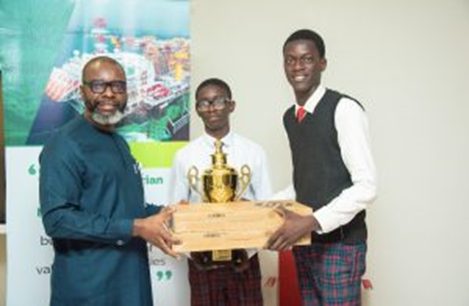 – Holds prize-giving for quiz competition
Lagos — The Nigerian Content Development and Monitoring Board (NCDMB) has reaffirmed its commitment to the promotion of education in the sciences and technology as part of a corporate strategy to develop the capacities of Nigerians for value-adding activities in the petroleum sector in the years to come.
Speaking at the presentation of prizes to winners of the 5th and 6th editions of the NTA Yenagoa Science Quiz Competition, sponsored by the Board, its Executive Secretary, Engr. Simbi Kesiye Wabote, Represented by the Manager, of Corporate Corporations, Barrister Esueme Dan Kikile said "it is critical for the Board to encourage our young ones to start early to develop an interest in science subjects." According to him, the initiative is in line with NCDMB's mandate "to build local capacities in the oil and gas industry."
He noted with satisfaction that the standard of competition and the participating schools has improved remarkably since 2012/13 when it began, and assured of continued sponsorship, while commending the NTA Management, represented by Mrs. Dauju Whyte, and the Quiz Coordinator, Mr. Richman Okpobo, for quality performance in their respective roles.
Recalling other critical contributions, the NCDMB has made to the development of education in Bayelsa State, particularly literacy in Information and Communication Technology (ICT), He said the Board established well-resourced ICT Centres at Government Technical College, Okaka, Yenagoa, and Nembe National Grammar School (NNGS) in Nembe Local Government Area.
Other ICT Centres are at Government Secondary School (GSS), Opokuma, in Kolokuma/Opokuma Local Government Area; Community Secondary School (CSS), Otuoke, in Ogbia Local Government Area, and Government Secondary School (GSS), Okpoama. The Centres are equipped with computers, projectors, printers, and photocopiers, and provided with computer instructors and Internet facilities. Each Centre has a power generating set with a backup inverter to ensure a stable power supply.
NCDMB also procured and distributed 18,000 copies of Mathematics and computer textbooks to 188 secondary schools within the State. The Bayelsa State Post-Primary Schools Board (PPSB) also received 32 desktop computers, 752 computer textbooks and 752 computer workbooks donated by the Board.
In the results announced for the Science Quiz Competition of 2020/21, Faith Comprehensive Secondary School, Yenagoa, won the first prize, while Ijaw National Academy, Kaiama, had second place. In the third position was Belary School, also in Yenagoa. For 2021/22, Belary School won the first position, followed by Milky Way Academy, Yenagoa, while Faith Comprehensive Secondary School had the third position. For prizes, the contestants and schools received trophies, laptops, and three-in-one printers-scanners.
Follow us on twitter