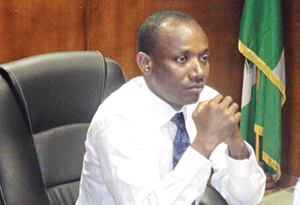 Kunle Kalejaye & Olowoopejo Monsurudeeni
18 September 2012, Sweetcrude, LAGOS – IN line with government's transformation agenda for the power sector, the Nigerian Electricity Regulatory Commission, NERC, has launched the Ikeja Forum Office that will address customers' complaints.
The commissioning of the Ikeja Forum office became necessary following a deluge of complaints by electricity consumers. As such, the office is expected to protect vulnerable electricity consumers from exploitation by service providers.
Minister of State for Power, Mr. Darius Ishaku, who was present at the occasion, said the Ikeja office is the second level of appeal in the chain of consumer complaints, adding that issues beyond the forum are to be handled at the final appeal stage by the NERC.
Expensive litigations
Ishaku stated that the office will significantly reduce the incidence of protracted and expensive litigations, and also congratulated the newly inaugurated forum members who have been chosen to serve in this national assignment.
He said "I'm aware they were chosen based on their qualifications, integrity and depth of experience. This call to duty will require transparency, teamwork, fairness, consistency and the deployment of their professional experience. I wish you the best of luck and Gods guidance in your discharge of your assignment."
Chairman of NERC, Dr. Sam Amadi in his address said the Commission strives to ensure that vulnerable consumers are fully protected from exploitation by service providers. He said that "Vital consumer issues like billing, metering, connectivity, price often create disputes between consumers and the service provider."
In line with the Commission's mandate as provided in Section 32, 80, 83 and the powers conferred on it in Section 96 (1) of the Electric Power Sector Reform Act 2005, Amadi said the NERC has developed the Customer Complaints Redress Mechanism for handling customers' complaints.
Governor Babatunde Fashola of Lagos State, argued that power shortage in the country can only be solved when everyone began to conserve water and power, saying, "The more water we waste, the more energy will also be wasted; when there is need to pump water, energy would be required.
Disposable income
The amount of money we waste on energy reduces the country's disposable income and makes life more challenging to live. It makes production more expensive as well."
The governor added that "The conservation of both water and power is the bedrock of sustainability in the country. From our survey at Agidingbi, it shows that much energy is generated across the state but they are generated in high cost. As this energy is generated, some were also wasted because they were not shared."
Chairman, Senate committee on Power, Mr. Phillip Aduda, urged the NERC to ensure that within the next 16 months, the entire population in the country is fully metered.
According to him, "This will help nip in the bud the confrontation between the energy provider and electricity consumers."Delete ReplyReply ForwardSpamMovePrint Actions NextPrevious