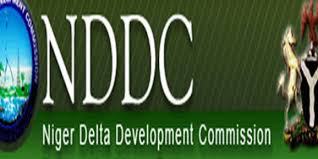 Oscarline Onwuemenyi
11 october 2017, Sweetcrude, Abuja – The militant group, Reformed Niger Delta Avengers (RNDA) in conjunction with nine other militant groups called on President Muhammad Buhari to immediately probe the financial books of Niger Delta Development Commission (NDDC).
The groups alleged that there was plan by the Commission to release funds meant for the development of the region to individuals and groups under spurious guise.
RNDA leader, Mr. Johnmark Ezonbi, said in a statement after a meeting of militants at Yenagoa, Bayelsa State, said that in a plot reminiscent of the past PDP-led Federal Government, the NDDC was about doling out some billions of naira to support a self-acclaimed regional body, which had not made any impact in the region.
He stated, "We, therefore, call on President Muhamadu Buhari, the Economic and Financial Crimes Commission (EFCC) and the Independent Corrupt Practices and other Related Offences Commission (ICPC) with other security agencies to urgently call the management of NDDC to order to prevent them and stop this ungodly trend of fraudulent connivance to divert funds meant for the development of the Niger Delta region to a group.
"The EFCC should scrutinize the activities of NDDC to checkmate fraudulent activities because there are fears that some people there were part of the corrupt former regime which plunged the region into serious under development."