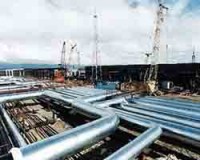 Kunle Kalejaye
22 January 2013, Sweetcrude, Lagos – The Federal Government is set to boost power supply in the country with 400 Million Metric Standard Cubit Feet per day of gas following the unveiling of Oredo Integrated Gas Handing Facility, IGHF, at Nigerian Petroleum Development Company, NPDC operated field in Edo State.
The facility, which currently supplies 65 million Metric Standard Cubic Feet per Day, MMscfd, has ramped up NPDC's total gas production to a record 400MMscfd which is expected to increase to 600MMscfd by year end, is envisaged to boost the Federal Government's power supply drive.
Minister of Petroleum Resources, Mrs. Diezani Alison-Madueke, in a statement, yesterday, said the project was in line with the ongoing reform process in the industry designed to ensure the monetization of the nation's gas endowment through gas to power and other gas related uses.
She noted that the Oredo gas project, which is 100 percent local content in design and construction, was in furtherance of Federal Government's desire to grow and support effective indigenous participation in the oil and gas industry.
She said: "It is this commitment to support indigenous oil and gas production growth that led to the assignment of a number of assets to NPDC. Government's commitment is further reflected in the Petroleum Industry Bill, PIB, 2012, currently before the National Assembly, where special consideration had been given to indigenous players in the industry."
Providing technical details of the project, Group Managing Director of Nigerian National Petroleum Corporation, Engr. Andrew Yakubu, said the IGHF which symbolized NNPC's response to the Federal Government's gas to power initiative was the first major gas development project aimed at realising NPDC's strategic growth plan of being an integrated oil and gas company.