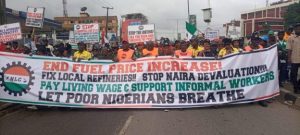 Abuja — A nationwide strike called by Nigeria's labour unions to protest against the removal of a petrol subsidy and demand a new minimum wage got off to a slow start on Wednesday as most businesses were open, though with reduced traffic in some spots.
Since being sworn into office on May 29, President Bola Tinubu has embarked on the country's boldest reforms in decades, scrapping the popular but expensive subsidy, which cost $10 billion last year, and relaxing foreign exchange regime.
While the reforms have been welcomed by investors, unions say they have led to soaring costs at a time when Nigerians are already grappling with the highest inflation in nearly two decades.
A few hundred placard-carrying protesters led by union leaders marched in the capital Abuja and in the oil-producing state of Bayelsa, where union officials handed a petition to the state government detailing some of their grievances. Protesters also marched in northern cities of Kano and Kaduna.
Nigerian Labour Congress (NLC) said ending the fuel subsidy was "hasty with no thought-out plan to cushion the effects on workers and Nigerians."
"Every family feels the fang of the harsh policies of government which has resulted in the astronomical increase in transportation, food, goods and services, tuition fees, rising costs of accessing quality healthcare, just to name but a few," the NLC said in a statement on Wednesday.
In Lagos, businesses were open, including the branches of supermarket chains Pick n Pay and Shoprite. At a market in the Obalende neighbourhood, vegetable sellers went about their business, haggling with customers over prices.
The NLC and the Trade Union Congress (TUC), Nigeria's two main labour federations, represent millions of workers across most sectors of Africa's biggest economy, including parts of the oil industry.
The unions have said the strike will last one week, but they may struggle to sustain the protest as tens of millions are employed in largely informal sectors of the economy that have no union representation.
*Tife Owolabi, MacDonald Dzirutwe & Elisha Bala-Gbogbo, editing: Tomasz Janowski – Reuters