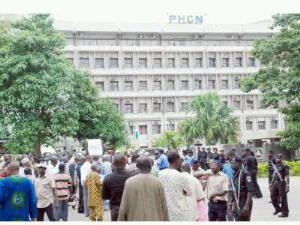 Gabriel Enogholase
06 September 2012, Sweetcrude, BENIN — THE National Union of Electricity Employees, NUEE, Wednesday, called on its members not to see the resignation of the former Minister of Power, Prof. Barth Nnaji, as the end of the struggle for the payment of their entitlements, saying that they should be prepared for the last confrontation with the Government on the issue.
During its sensitisation rally in Benin, Edo State, National President of the union, Mr. Mausa Musa, said NUEE's stand on Federal Government privatisation policy remained the same, adding that the workers were prepared to withdraw their services from Power Holding Company of Nigeria, PHCN, if their entitlements were paid.
"We will not stay a day longer in the establishment if the government decides to take their company and pay off all the workers. That has been the union's stand. We will not relent on this stand for which the leaders need the corporation of all the workers as usual to continue the struggle," he said.
Also addressing the workers, General Secretary of the union, Mr. Joe Ajaero, reiterated the resolve of the workers to continue with the demand for the payment of full entitlements to PHCN workers.