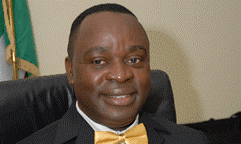 04 June 2012, Sweetcrude, LAGOS – THERE is shock and grief in Nigeria, more so in the nation's oil sector, over the death of 153 passengers and crew in the Dana Airline plane crash on Sunday in Lagos.
Dr Levi Ajuonuma, the brilliant and efficient Group General Manager, Public Affairs Division of the Nigerian National Petroleum Corporation (NNPC) is one of the victims of the crash.
The plane crashed into a two-storey building in Iju-Ishaga in Agbado, a suburb in Nigeria's main city of Lagos, bursting into flames.
At the NNPC corporate headquarters in Abuja as in the entire oil sector, disbelief and shock have greeted the death of the communication expert and multi-talented broadcaster, who hosted multiple shows on radio and television prior to joining the NNPC in 2002.
Many are yet to come to terms with the death of the ex-broadcaster.
Brief biograpghy
Ajuonuma was for many years host of the popular Saturday night programme, 'Open House Party' – a variety entertainment show which hosted mostly comedians and music acts on Ray Power FM.
He was also host and executive producer of the equally popular 'The Sunday Show', 'Levi Ajuonoma live' and 'Showtime' on the Nigerian Television Authority (NTA) and other channels.
Ajuonoma commenced his career in 1977 as an announcer with Imo Broadcasting Service (IBS) in Owerri, Imo State. He left IBS in 1979 for Huntington College, Indiana, USA, where he bagged a Bachelor of Arts in Communications.
He later got a Master of Arts and Doctor of Philosophy (PhD) in Mass Communication from the University of Minnesota in 1983 and 1987 respectively. He also got an MBA from Plymouth State College of the University System of New Hampshire two years later.
Before returning to Nigeria, he worked briefly as Assistant Professor at the Department of Journalism, Keene State College of the University System of the State of New Hampshire.
Apart from Ajuonuma, the plane crash also also claimed the lives of two Army generals, the son of former Vice President Augustus Aikhomu, among others.