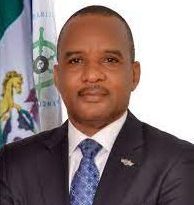 – Places over 11,000 on board Cabotage vessels
Vincent Toritseju
Lagos — IN a bid to further enhance a reliable data base for seafarers in Nigeria, the Nigerian Maritime Administration and Safety Agency, NINASA, has commenced the electronic registration of sailors.
In a statement signed by the Head of Public Relation department of the agency, Mr. Osage Edward, Director General of the NIMASA, Dr. Bashir Jamoh said that one of the cardinal principles of the Cabotage regime is the localization of manning vessels operating in Nigerian waters.
Jamoh also said NIMASA has ensured the placement of Nigerian seafarers on board Cabotage vessels in line with its placement function and the provisions of the Cabotage Act, 2003 adding that Cabotage manning applications are now processed on the condition that all foreign crew especially Ratings on board vessels are to be replaced with Nigerian seafarers/cadets within two-three weeks of operations.
He said: "To a considerable extent, resultantly, 539 Nigerian seafarers have been recommended for replacement in the first quarter of 2023.
"NIMASA under the current administration have placed 3,705 seafarers onboard Cabotage vessels in the year 2021, 7,238seafarers placed in 2022 and 1013 placed in 2023 (Jan – July). Overall, a total of 11,956 Nigerian seafarers have been placed onboard Cabotage vessels from January-2021 to July- 2023.
"Registration and Documentation have now been digitalized as the establishment of the e-registration platform is to enable the online and real-time registration of maritime labour (seafarers & dockworkers), maritime labour employers (shipping companies, manning/crewing agents, stevedoring companies, jetties/terminals operators) and operators (bonded terminals, inland container deports, off dock terminals, dry ports offshore platforms) in Nigeria.
"It is worthwhile to mention that the maritime labour E-registration platform is a robust integrated information, verification and communication facility that provides real-time information on maritime labour registration processes and operations as well as enables the online registration and verification of documents, and the issuance of operational licenses timely.
"The platform is also meant to serve as a database from which statistics can be extrapolated for national planning, policy formulation, human and infrastructural development and research purposes. NIMASA is in the process to host the E-registration platform on the Agency website.
"Furthermore, 3,219 and 3,619 seafarers were registered in the years 2021 and 2022 respectively with 1176 registered in the year 2023 (Jan-July). In the same vein, 24 MLC, 2006 certificates were issued in the year 2021, 49 MLC, 2006 certificates issued in the year 2022 and 63 MLC, 2006 certificates have been issued in the year 2023 (Jan-July). Thus, a total of 8,014seafarers have been registered from 2021 to 2023 (Jan-July) and 136 MLC, 2006 certificates issued after inspections within the same years.
"Additionally, 65 stevedoring companies, 26 terminal/jetty operators and 1,395 dockworkers have been registered from 2021 to 2023 (Jan-July)."
Recall that NIMASA in 2008 initiated the NSDP with the sole mandate of training Nigerian youths to become seafarers and Naval Architects in fulfilling one of its cores in the area of Maritime Capacity Building.