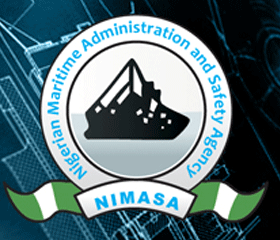 16 May 2014, Lagos – No fewer than 244 vessels have been intercepted by the Nigerian Maritime Administration and Safety Agency (NIMASA) over their alleged involvement in piracy  on Nigeria's  territorial waters in the last two years. The vessels were alleged to have been involved in sea robbery, illegal bunkering and other criminal activities in Nigerian maritime domain.
This was disclosed by the Director-General, NIMASA, Mr. Patrick Akpobolokemi, in a speech he presented at the just concluded ground-breaking ceremony of the Maritime University (NMU), NIMASA Dockyard/Shipyard facility at Gbaeramatu Kingdom, Warri South, Delta State.
The NIMASA helmsman maintained that the collaboration of the agency with the Nigerian Navy as well as other security agencies have helped it to maintain and sustain physical presence in all the remote areas of Nigeria's maritime domain.
He argued that through the partnership, the powers of the agency to enforce compliance to the provisions of the Cabotage Act have increased.
He pointed out that as a result of the physical patrol of the waters, incidences of security breaches have continued to decline in both frequency and scale of success.
His words: "The last two years of our acquiring operational and enforcement capability has led to the arrest of over 244 vessels. Their offences range from piracy and sea robbery, economic sabotage, illicit activities to non-compliance with regulatory regimes and evasion of statutory levy payment. Our activities in the area of Maritime Domain Awareness (MDA) have got a significant boost through our improved enforcement capability.
"NIMASA as a maritime administrator (MARAD) with coastal, flag and port state responsibilities is now able to physically patrol, monitor, enforce and where necessary interdict suspects and vessels that breach our maritime laws no matter where they are located in our waters."
He assured that the agency is still working hard to ensure that it establishes and maintains its physical presence in all remote areas of Nigeria's maritime domain.
He assured that all programmes and activities of the agency are geared towards improving Nigeria's fortune in the maritime sector.
He also expressed the desire of the agency to have a partial autonomy so that it can be exempted from remitting its unspent funds into the federation account for next five years.
Akpobolokemi said that the demand is to further empower the agency financially and enable it commit all its accruable resources to the projects.
Already, Akpobolokemi said that the proposal has been submitted to the President and that the agency is only awaiting his approval.
Justifying the need for the Federal Government to exempt NIMASA from all capital remittances into the Federation Account for five years, Akpobolokemi said that the project being carried out by NIMASA is billed to gulp billions of dollars, and that the agency does not want to run to government for money at all times for the project.
"We call for our exclusion for at least five years because of the capital intensive nature of the project; after all, the projects are for Nigerians, they are federal government projects and when you see that some sectors go back to the presidency for incentive, bail out, and so on, then you know we are also qualified, considering what we are doing for our people and for the government of Nigeria", he argued.
He added: "Some other agencies go to the federal government to ask for money or even to ask for bail out, but we don't do that, we are talking about what we are contributing within some period because cumulatively all this project may go up to a billion dollars and you can imagine how expensive it is and that is why we are asking for it."
"The president will put the necessary paper and look into that file, if they wish to grant them we will be happy" he stressed.
Akpobolokemi also argued that statutorily, part of the agency's revenue is transferred to the Maritime Academy of Nigeria (MAN) in order to assist it to grow.
He said that as a stop gap measure to fill the death of capacity in the maritime industry, NIMASA is training 2,500 Nigerians in different maritime schools in different regions in maritime Universities and Academies abroad and that this is a very big boost to the sector.
"We don't stop there, we also help to assist outside our statutory obligations; all to get capacity, and when this university will be developed, when the academic session starts, it will increase the capacity."
– This Day