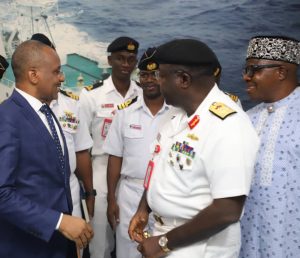 Michael James
Leeds, England — The Nigerian Maritime Administration and Safety Agency, NIMASA, and the Nigerian Naval Training Command, NAVTRAC, have reinstated commitments to collaborate when issuing appropriate certification to qualified seafarers who undergo requisite training.
This was made known by NIMASA Director General, Dr. Bashir Jamoh when a delegation from NAVTRAC led by the Flag Officer Commanding, Rear Admiral Patrick Nwatu paid a working visit to NIMASA.
He noted the need for collaboration to enhance capacity development and professionalism in line with global best practices.
NIMASA DG urged NAVTRAC to close identified gaps to ensure training and the curriculum of the Naval Training Command is in line with the curricula of international training institutes for maritime professionals, with particular reference to the Standards of Training, Certification and Watchkeeping (STCW).
Jamoh emphasized the need for both the Nigerian Navy and NIMASA to keep collaborating, noting that it is for the good of the nation and our quest to sustain successes in the fight against piracy in the Gulf of Guinea.
In his remarks, the Flag Officer Commanding NAVTRAC, Rear Admiral Nwatu, assured the DG of the commitment of the Nigerian Navy to developing the capacity of its personnel along professional lines, which will ultimately lead to enhanced productivity in the Navy.
Follow us on twitter