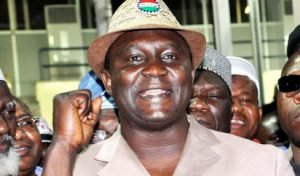 06 February 2019, Sweetcrude, Lagos — With a promise to battle for implementation of the new national minimum wage, the Nigeria Labour Congress, NLC, president, Ayuba Wabba, was returned to the position Wednesday for a fresh mandate of four years.
Wabba was re-elected unopposed at the 12th Quadrennial National Delegates Conference of the body.
Muhammad Nadir Idris, Najim Usman Yasin and Amaechi Asugwuni were elected deputy presidents, also unopposed.
Abdrafiu Adeniji, Peters Adeyemi, Lawrence Amaechi and Oyelakan Lateef were also elected unopposed as vice presidents.
Other elected officers are Marven Adamu (National Financial Secretary), Ibrahim Khaleel (National Treasurer) and Adewale Adeyanju (National Trustee).
Also Read: General Electric to cut close to 470 jobs in France-unions
Like and follow on facebook & twitter