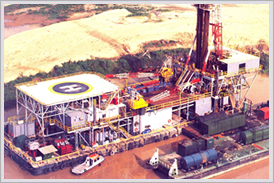 06 February 2012, Sweetcrude, LAGOS – Oando Energy Services Limited (OESL), a subsidiary of Oando Plc, has won a a drilling contract with Shell Petroleum Development Company of Nigeria(SPDC) in the Niger Delta worth N12 billion.
The leading indigenous operator of swamp drilling rigs, Monday, announced the deployment of one of its swamp rigs, OES Passion, to execute the two-year drilling contract.
Meka Olowola, Oando's Head, Corporate Communications, said in a statement issued in Lagos that the deployed rig brings to three the number of rigs OESL had in operation following earlier deployment of OES Integrity in 2009 and OES Teamwork in 2010.
"OES Passion is a unique swamp barge with sequential well drilling capabilities and a skidding system that enable it drill up to six wells in one location. Formerly known as Parker 75, the rig entered into service in 1999 and is rated to 3000HP, thereby able to drill up to 25,000ft in water depths of up to 16 ft," the statement said.
It said the project being executed by Oando Energy Services for Shell Nigeria is a testament of Oando's support for the Nigerian Oil & Gas Industry Development Content Act and local capacity development programme of the Nigerian government.
Mr. Bandele Badejo, Chief Executive Officer of OESL, said: "The deployment of this rig further underlines OESL's commitment to ensuring competent indigenous companies take advantage of the provisions of the Nigerian Oil & Gas Industry Development Act.
"We remain resolute towards developing Nigeria's upstream service industry and continue to set the benchmark for performance".
In his comment, Mr. Wale Tinubu, Group Chief Executive Officer, Oando Plc, said his company's strategy of diversification and expansion into the upstream oil and gas sector is yielding positive results.
"In 2011, our upstream division accounted for approximately 33% of the group's profits and this year, we are committed to further increasing our footprint in the upstream sector as we help to meet the nation's energy challenges. Subsequently, our fourth rig is billed to be deployed in the last quarter of 2012 in line with our resolve to increase earnings by maximising opportunities in the upstream space," he added.