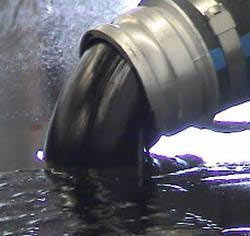 10 December 2012, Lagos – Oil producing communities in Delta State, have petitioned the Chairman, Revenue Mobilisation Allocation and Fiscal Commission (RMAFC), demanding among other things, that a DERIVATION BOARD whose members will be recommended for appointment by the President, on the advice of the leaders of oil and gas communities, be set up.
The communities, according to THISDAY report, Sunday, said in a letter signed by elders from six oil producing states including, Edo, Ondo, Akwa Ibom, Rivers, Delta and Bayelsa states, that the proposed derivation board should comprise an executive chairman, secretary and members, including a member from RMAFC.
The communities also demanded that the 13 per cent derivation fund accruing to the federation account directly from any natural resources, be paid as first line charge from the federation account to the communities.
"The 13 per cent Derivation Fund belongs exclusively to the oil and gas producing communities, which are the source of derivation. The oil facilities, flow stations etc. are located in the oil and gas producing communities, where oil exploration, exploitation and production, are being carried out, causing monumental degradation, pollution and health hazard etc. The 13% Derivation Fund is compensation and reparation for loss of fishing right and loss of productive farm land," they reiterated.
They added that the chairmanship should rotate among oil and gas producing states every four years. The group also insisted that the 13 per cent Derivation Fund currently being managed by the State Governors in the oil and gas producing states was an aberration, adding that the Fund had been managed without regard to the oil and gas producing communities who
are owners of the Fund.
"In order to put this issue in proper perspective, a reproduction of Section 162 (2) of the constitution of the Federal Republic of Nigeria 1999 as amended thereof, is imperative at this juncture.
"That section provides thus: 'The Federation shall maintain a special account to be called "the Federation Account" into which shall be paid all revenues collected by the Government of the Federation except the proceeds income tax of the personnel of the armed forces of the Federation, the Nigeria Police Force, the Ministry or department of government charged with responsibility for Foreign Affairs and the residents of the Federal Capital Territory, Abuja.
"The President, upon the receipt of advice from the Revenue Mobilization Allocation and Fiscal Commission, shall table before the National Assembly, proposals for Revenue Allocation from the Federation Account, and in determining the formula, the National Assembly shall take into account, the allocation principles especially those of population, equality of states, internal revenue generation, land mass, terrain as well as population density."