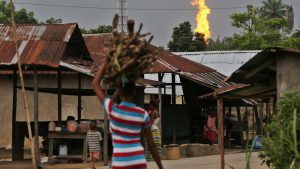 Mkpoikana Udoma
Port Harcourt — Oil producing communities in Rivers State, have raised the alarm over neglect and abandonment of their communities by the government at all levels, despite their massive contribution to the national economy.
The oil and gas rich communities particularly mentioned dilapidated health centres, lack of potable water, absent of electricity and dilapidated internal roads as major challenges in their communities.
The communities are, Odiemerenyi community in Ahoada East, Bomu community in Gokana, George-Pepple community in Bonny, Idama Ekulama community in Akuku Toru, Oyigbo Urban in Oyigbo, Umuechem in Etche, Akpabu community in Emohua and Ali-Ohuru community in Omoku, Ogba/Egbema/Ndoni Local Government Areas of Rivers State.
Speaking during a townhall meeting orgnaised by Connected Development in Port Harcourt, recently, the communities called on the government to rise up to its responsibility by providing basic amenities in the rural areas.
The Community Development Chairman of Umuechem in Etche, Engr Godson Nwairoegbu, decried that his community has no motorable road or hospital, despite hosting many oil and gas wells.
"Umuechem is the second place where oil was discovered in commercial quantity after Oloibiri. We need the state federal and local government to help us, we have no roads, electricity, health centres, etc"
Similarly, the CDC of Ali-Ohuru community in Omoku, Barr Mela Ake, lamented that oil spills from facilities operated by multinationals in the area, over the years has contaminated the underground water.
"We have a health centre but with inadequate facility. The building itself needs complete rehabilitation. Our internal roads are in disrepair. Omoku-Elele road is in a bad shape. Oil spills over the years has contaminated the underground water."
Also, Chief Precious Enweruka from Oyigbo urban, regretted that Oyigbo has no motorable road despite hosting oil and gas wells, including six power plants (Afam 1-6 plants).
In the same vein, the CDC of Akpabu, Dr Obua Anthony, said the health centre in the community has no resident doctor and basic medical supplies.
"We have health centres but no resident doctors. Our neighbouring towns like Ahoada and Port Harcourt are far away. We have no access to potable water. We need rural water scheme in our community. Our roads are failing."
The CDC of Odiemerenyi, Mr Obile Godstime, said all the schools in the community were without roofs, adding that potable water was a luxury.
"Our schools are without roofs for over two years now. Our children have been suffering. The health centres are not functional. We have no potable water in the community.
"Schools, both primary and secondary schools have no toilet or administrative blocks. Internal roads are terribly bad. Most of the school buildings are dilapidated. We need the government to come to our aide to solve this problem for us."
Similarly, Tonye Willie-Pepple from George Pepple community in Bonny, said developmental projects do not get to the rural communities in Bonny, but only the main island.
"Yes there are pockets of government projects, but there are mainly in Bonny town. Bonny LGA has many communities and villages. And these communities lack basic amenities, including potable water.
"So we are calling on NDDC particularly to come to our aide, because Bonny contributes billions of Naira to the federal government on a daily basis."
Follow us on twitter