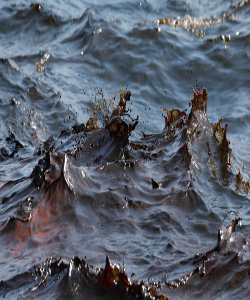 01 September 2012, Sweetcrude, EKET – THE oil spill near ExxonMobil oilfield off the coast of Ibeno, Akwa Ibom State, southeast of Nigeria has spread along the shore for about 15 miles, and locals said it was killing fish they depend on to live.
Mobil Producing Nigeria, a joint venture between ExxonMobil and the state oil firm, said this month it was helping clean up an oil spill near its Ibeno field in Akwa Ibom state, though it did not know the source of the oil.
Reuters reports that water along the coast was covered with a rainbow-tinted film of oil for miles.
Exxon officials in Nigeria and in Houston could not immediately be reached to provide comment.
Oil spills are common in Nigeria, where enforcement of environmental regulations is lax and armed gangs frequently damage pipelines to steal crude.
In the Iwuokpom-Ibeno fishing community, village elder Iyang Ekong held up one of a load of crabs that a fisherman had caught that morning, only to find they were soaked in toxic oil.
"When I got I home, I realized we can't even eat them because they smell so badly of chemicals. So we're just going to leave them by the waterfront," he said.
Decades of oil production in Nigeria's swampy Niger Delta, where Africa's second-longest river empties into the Atlantic, have turned parts of it into a wasteland of oily water and dead mangroves. Thousands of barrels are spilled every year.
The companies say oil theft by criminal gangs is responsible for most of it.
"Our fishermen noticed the oil on an outing, but the sea has started depositing crude oil along the coast, and it has filled the water," said Samuel Ayode, chairman of the fishermen's association of Akwa Ibom, as he repaired his fishing net on the beach. He added that it started around August 10.
"No one's done any fishing since. The fish have migrated away from the pollution."
A landmark U.N. report in August last year slammed the government and multinational oil companies, particularly Shell, for 50 years of oil pollution that has devastated the Ogoniland region. One community is suing for compensation in a London court.
The government and oil majors have pledged to clean up the region and other parts of the delta, but locals say they have seen no evidence of action yet.
Market trader Grace Eno said fish were scarce since the spill and that fishermen were selling at much higher prices. Shrimps have doubled in price, she said, "so how can I make a profit?"