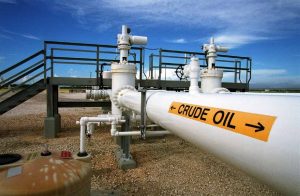 London — A series of oil supply disruptions across the globe has helped push Brent crude prices above $81 a barrel for the first time since April.
Forecasters expect OPEC+ supply cuts and ramped up demand from China to tighten markets despite some macroeconomic headwinds.
Below are details on recent disruptions:
NIGERIA
Shell on July 13 said it had suspended loadings of Nigeria's Forcados crude oil due to a potential leak at the export terminal.
Exports of the medium sweet grade, which was scheduled to ship 220,000 barrels per day (bpd) in July, were scuttled on Wednesday after workers saw fumes near the single buoy mooring that was loading oil onto a vessel, sources told Reuters.
Technical problems have beset Forcados, one of the largest crude oil streams from Africa's top exporter, on and off for several months.
Nigeria is expected to supply 1.23 million bpd of roughly 102.1 million bpd of projected global oil demand in 2023, according to the latest International Energy Agency (IEA) figures.
LIBYA
Production at three Libyan oilfields ceased on July 13 in protest against the abduction of a former finance minister, a tribal leader, oil engineers and a protester told Reuters.
One of the inactive fields, Sharara, is one of country's largest production areas with capacity of 300,000 bpd. It has been a frequent target of political strife.
Libya is expected to supply 1.16 million bpd of projected global oil demand in 2023.
KAZAKHSTAN
Production plummeted by around a fifth in early July due to a widespread power outage in the region.
The Caspian Pipeline Consortium (CPC), the main export pipeline for Kazakh crude oil, stopped three pumping stations in western Kazakhstan as a result, but continued pumping oil from Tengiz, the country's biggest field by output.
Recovery from the outage is now underway, but output so far remains below June's average of 1.8 million bpd.
Kazakhstan is expected to supply 1.57 million bpd of projected global oil demand in 2023.
MEXICO
Mexico's state oil company Petroleos Mexicanos (Pemex) is set to lose 100,000 bpd of crude output until the beginning of August after a massive fire on July 7 at an offshore platform, a top company source said.
Pemex, which produces in total about 1.6 million bpd of oil, will lose at least 2 million barrels of crude through the end of July, according to Reuters estimates.
Mexico is expected to supply 1.67 million bpd of projected global oil demand in 2023.
KURDISTAN
Turkey halted Iraq's 450,000 bpd of exports through a crude oil pipeline from the semi-autonomous Kurdistan region in northern Iraq to the Turkish port of Ceyhan on March 25.
Turkey's decision followed an arbitration ruling by the International Chamber of Commerce (ICC), which ordered Turkey to pay Baghdad damages of $1.5 billion for unauthorised exports by the Kurdistan Regional Government (KRG) between 2014 and 2018.
Sources told Reuters in June that talks to discuss the halted exports had resumed.
Iraq as a whole is expected to supply 4.24 million bpd of projected global oil demand in 2023.
Reporting by Noah Browning and Natalie Grover; Editing by Jason Neely and Mark Potter – Reuters
Follow us on twitter