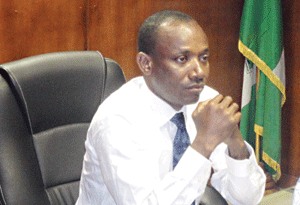 *How recent hike in electricity tariff affects Nigerians
Udeme Clement
10 June 2012, Sweetcude, LAGOS – APPARENTLY, the new increase in electricity tariff by 11 per cent, from June 1, 2012 by Nigeria Electricity Regulatory Commission (NERC) is unsettling for most power consumers. While some Nigerians see the development as a move by government to compel people to pay more for darkness, others called on the Regulatory Commission to provide pre-paid meters for all consumers to avoid discrepancies in the volume of power consumption and amount accruable to government every month.
The Chairman of NERC, Dr. Sam Amadi, had recently, explained that the proposed increase would enable the Power Holding Company of Nigeria (PHCN) to recover the cost of generating and distributing electricity for domestic and industrial consumption, even as he stressed that Nigeria is far below South Africa in electricity generation and must increase tariff for serious investors to come in, in order to optimise output in the sector.
According to him, the current power generation capacity of between 3, 600 and 4,800Mega Watts (MW) daily, out of which about 200 megawatts are kept in reserve to take care of system collapse, is not sufficient for a population of over 160milion. He explained that Nigeria needs at least between 22, 000 to 25,000 MW of daily electricity generation capacity to ensure constant and uninterrupted power supply.
Amadi gave an insight into the urgent need for more private investors to come in and put sufficient money to revamp the sector for greater efficiency. He said that there must be reasonable tariff increase and propelled government intervention to provide a conducive operating environment that would drive private sector investments in the power sector now and in the long-run.
However, the NERC stated clearly that Nigerians living and doing businesses in rural areas have nothing to worry about, as government has made necessary arrangements to subsidise electricity consumption for them. In that capacity, the sum of N60 billion had been provided as subsidy for electricity consumption by the poor and rural dwellers for 2012 while N50 billion will be spent for the same purpose in 2013 fiscal year.
Sunday Business gathered that the meters are categorised into R1, R2 and C1 among others. R1 customers would no longer pay both the meter maintenance fee and fixed charges as they would only pay for the energy they consume at the rate of N11 per kilowatt hours. The R2 customers would pay a monthly fixed charge of N500 in addition to whatever is consumed at the rate of between N11 and N12 per kilowatt hours.
Meanwhile, many Nigerians are urging NERC to provide sufficient pre-paid meters to ensure accuracy in electricity pricing. But our investigations revealed that the PHCN has not been able to provide meters for all consumers of electricity in the country by June 1, not to talk of pre-paid meters.
Recently, NERC boss said about N7billion was needed to provide meters across the country, even as he said that, with the assistance of the World Bank, the Federal Capital Territory (FCT) had already been provided with about 40 per cent coverage of metering system within the region.
Some experts who spoke with our correspondent advised government on the need to explore alternative sources of power generation such as hydro, coal, solar and more gas powered stations to be built in strategic places in order to ensure sufficient gas supply to power the plants.
Electricity generation
The current power generating capacity stands at 3, 600 and 4,8003,400mw. 2011 generating capacity was between 3,800 and 3,900. Generating capacity in the last quarter of 2010 was between 3,700mw and 3,800. In 2009, the sector witnessed just a slight increase in the level of outputs from the previous 3,500mw of electricity generated in 2008 to about 3,700 MW.
The 2009 economic year brought more investments in the sector through the release of N59billion, which the late President Umar Yar'Adua approved in the last quarter of 2008. The initiative was to enhance execution of major projects in the sector, yet that year ended without tangible achievement, even as the expectation to achieve 6,000mw capacity in December 2009 was not realised.
Intervention
The House of Representatives has, in the meantime, summoned the Minister of Power, Prof. Barth Nnaji, and Amadi, to appear before its Committee on Power on the issue of planned increase in electricity tariff.
The consumers perspectives
PHCN must provide consumers with pre-paid meters – Mr. Ndubuisi Nwogbo, Company Secretary, Blueseas Maritime Services Nigeria Limited, Apapa: I am totally against the new tariff. There must be a clear road map on how they want to go about improving electricity in Nigeria before talking about increase in tariff. The government must issue a comprehensive time-table on how to provide electricity so that people can buy into the project for efficiency in the sector. What are we paying for?
Government should borrow money to invest in the sector. The first priority should be to remove the old meters and provide the pre-paid meters for people to know precisely what they consume in order to pay adequately for the services. I feel very strongly that what government is doing is wrong.
We need private sector initiative- Mr. Okwuoili Daniels: Assistant Director, Legal Services, Nigerian Shippers Council (NSC): Government is trying to enhance efficiency in the electricity sector by allowing private investors to come in. In that case, government is trying to create an enabling environment for the investors to operate and improve their margin. Do you expert people to come and put money in the sector without recouping their investments? It is just like the telecom sector, because private investors in the sector are making profit in order to stay afloat in business.
Why did the House of Representatives support the unbundling of Power Holding Company of Nigeria (PHCN) and the issuing of licenses to private investors without a public hearing to know that no investor would like to put his money in a venture that would not improve his margin? They suddenly realised the need for public hearing when they ought to have done that before unbundling PHCN. Government should provide consumers with the pre-paid meters to enable people and investors determine electricity consumed daily and the amount that should be paid for it.
Aside from electricity tariff hike, NERC has also approved new charges, which must be paid by customers for installation of meters across 11 distribution companies under the supervision of Power Holding Company of Nigeria (PHCN). Sunday Business gathered that under the new tariff, high voltage maximum demand customers that are referred to as Residential 4 (R4) customers under the Kaduna Distribution Company are to pay N156, 356.00, those under Eko and Ikeja are to pay monthly charges of N118, 830.56 and N109,449.20 as fixed rates.
Also, high voltage maximum demand customers in Jos, Kano and Port Harcourt are to pay fixed charges of N117,267. 00 every month and the same category of customers in Yola must pay N100, 849.62. R4 customers in Abuja and Benin will pay N113, 358.10 and N101,631.40, while those in Enugu and Ibadan will pay N117, 416.46 and N117,267.00.
Increase in electricity tariff:
The new electricity tariff in June will be the second time NERC is increasing tariff this year. The commission approved an increase in electricity tariff by over 50 per cent from January 2012, saying it was in line with the on-going reforms in the power sector. The consumer with single phase meters were made to pay N10.85 and N14.60 per kwh as against the current rate of N7.30 per kwh, while customers currently paying N11 per kwh paid between N16.50 and N22 .
The residential category of the lowest paying customers at the rate of N2.20 per kwh increased to between N3.30 and N4.40 while the highest paying consumers at the rate of N15.60 per kwh increased to between N23.40 and N31.20 under the new tariff in January this year.
Years statistics:In 2009 : NERC effected 10 per cent increase in electricity tariff In 2009 and the cost of electricity per unit was N7.00/kw
In 2010: The cost of electricity went up to N8.50/kw
By July 2011: The cost of electricity moved to N10/kw.
BY June 1, 2011: NERC has again increased the cost of electricity by 11 per cent.
Power sector crisis/shortage of gas supply:According to experts, shortage of adequate gas supply is the major constraint in electricity generation and transmission in the country. For instance, the previous government built power plants in strategic locations across the country, but lack of sufficient gas supply to power those plants made it difficult for electricity generation to be realised from such plants. At present, there are power plants everywhere in the country, but no gas to power them. Also, some individuals who spoke with our correspondent said there is lack of synergy between gas producing companies and PHCN to ensure adequate supply of gas for power plants built with huge sums.
The Gas masterplan/Gas Pricing Policy:In 2008, the Federal Government approved the Gas Master Plan to ensure availability of gas supply for generation, transmission and distribution of electricity to meet demands for both domestic and industrial consumption in the country. Despite the approval of the gas master plan, government could not realise the 6,000MW by December 2009.
Experts are of the opinion that the Gas Master Plan as well as the Gas Pricing Policy must be properly implemented to boost development in the sector. The initiative should favour domestic users in order to make the domestic gas affordable to the consumers, and to bring economic gains to the industry and the economy at large.
Prior to the approval of the Gas Pricing Policy, there was no real pricing formular in the gas sub-sector, and that made everything worked in contradiction without a synergy in the system. The new policy was designed to boost industrial development in the country by ensuring competitive gas prices for all gas consumers, such that Nigeria 's gas could be supplied at the lowest commercially sustainable prices to the strategic domestic sector, which provides electricity for domestic and industrial consumption.