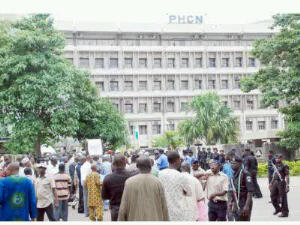 20 January 2013, Sweetcrude, Lagos – An association of Nigerian electricity workers has said it has agreed with the management of the Power Holding Company of Nigeria, PHCN, on the payment of severance package for electricity workers.
The Senior Staff Association of Electricity and Allied Companies, SSAEAC, said the union has agreed with the management on the payment of severance package to PHCN workers.
The President General of SSAEAC, Bede Opara, said on Friday in Lagos that negotiations on the payment of the severance package are ongoing. Mr. Opara, however, said that there were other areas that the union needed to clarify to the workers' advantage.
"We agree in principle with the laid down measures for the payment of severance package to the workers. However, there are some technical issues that we are yet to agree on.
"We are going to look at those technical issues with a view to resolving them in the next two weeks," he said.
Mr. Opara said that the association did not have any qualms with the employment of an international firm to work out
the financial benefits to each of the workers.
The Federal Government, had on January 10, appointed Alexandra Forbes, an international agency, to work out the benefits due to the workers.
The Ministry of Power said it had set aside N170 billion for the severance package. The mass retrenchment in PHCN is in line with the unbundling process and subsequent privatisation of the company.