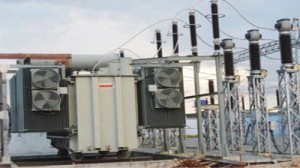 21 May 2013, Lagos – The Power Holding Company of Nigeria, PHCN, says the May 14 fire incident at its Ikeja West Transmission station was caused by defective transmission transformers.
Explaining this to journalists in Lagos, the Chief Executive Officer of the zone, Mr. Chris Akamnonu, said this was necessary to avoid anxiety on the part of members of the public "because we have read various versions of the stories from different media which were inaccurate."
The trasmission station, located at Ipaja area of Lagos, went up in flames on May 14 at about 11am, necessitating fears of possible blackout in Ikeja and environs.
"We deem it fit to inform the general public most especially our customer within the axis not exercise any panic about any power outage due to the fire incidence, as adequate measures have been put in place to ensure no place within the axis is left out of supply," Akamnonu said.
He added: "There was a fire incidence on Tuesday, May 14 at the Ikeja West station which has resulted in a loss of one out of the five numbers of units that transmit voltage from 33kva/132 which basically feeds customers in Ikeja and part of Ogun State.
"The transformers were lost due to the fire incidence but we are able embark on network re-arrangement to move load from other place to affected area to be able to get supply."
He further explained: "Immediately the incident occurred, we were able to transferred some feeders to Oworonshoki, Ajah, Ojo and Akangba to accommodate supply in the affected transformers.
"We moved load to Ajah and Akangba where we have capacity, the purposed is to ensure that those affected customers from Ikeja West Station are not stranded while the repairs was done within 24-hours".
Restating that no customers within the affected area would be affected by the incident, he maintained that "no customer and business operators in the area has suffered supply since the incidence''
He assured "Lagosians and customers within the network to put their mind at rest as the station has enough power to distribute," adding: "We are also working hard to ensure that the burnt transformer is replaced immediately.
"The fire has nothing to do with total outage in the affected area because immediately the incidence occurred we have restructured the supply channel to supply effective power to our customer within the axis".