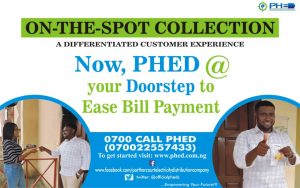 Mkpoikana Udoma
Port Harcourt — The Port Harcourt Electricity Distribution Plc, PHED, has cautioned members of the public against erecting structures under high tension cable lines and electricity right of way, within the four state states of its coverage.
The caution is coming on the heels of countless numbers of residential buildings, businesses, churches, markets and other activities conducted under power lines as observed by the PHED's Health, Safety and Environment Department.
The Port Harcourt Disco in a statement by its Head, Corporate Communications, Olubukola Ilevbare, said members of the public are meant to give a distance of between 5-50meters distance from electricity structures, in line with the electricity right of way code.
Ilevbare quoted the Managing Director of PHED, Dr Benson Uwheru, commiserating with the families of the five men electrocuted recently while erecting a church banner on a metal billbord frame under a high tension cable in Obiri Ikwerre axis of the East West Road.
"It is alarming that despite numerous public campaigns, against these harmful activities which contravene the right of way code on power lines in Nigeria and negates safety standards, some members of the public have jettisoned the dangers associated with power lines and continue to ignore all warnings.
"For the purpose of reinforcement, the company has constantly enlightened members of the public on the safety standards for building, erecting or trading close to the power lines in Nigeria.
"According to the right of way code, members of the public embarking on any activity close to the Power Lines are expected to give a tolerance of 5.5m on 11/33kv Lines, 12.5m on 132kv lines and 50m on 330kv lines and 1.05m on 0.415kv Lines as the acceptable right of way safety standard.
"Sadly, rather than adhering to the right of way provisions in NERC HSE manuals and code, some people continue to treat the matter with levity. This is largely responsible for the rise in avoidable cases of public safety incidents.
"PHED is renowned for promoting best practices in industry safety standards which earned the company an appreciable position on Safety Compliance ranking in the electricity industry.
"As a responsible company that values the sanctity of life, we empathise with the families of the deceased. Members of the public are further advised to adhere to public safety standards on electricity right of way to avoid loss of life."