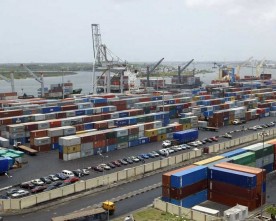 24 June 2013, Lagos – The move by the Council for the Regulation of Freight Forwarding in Nigeria, CRFFN, to resume the collection of transaction fees granted it by the Federal Government at the ports may suffer another setback unless the council carries along stakeholders, The Nation has learnt.
Investigation revealed that the feud between the Association of Nigeria Licensed Customs Agents, ANLCA, and the CRFFN over the mode of collecting and sharing the fees is yet to be resolved.
The charges approved by the government then, include, N1.50 per kilometre for air cargo, N1,000 per 20 ft container, N2,000 per 40 ft container, N500 per car/jeep, N1,000 per truck or 20ft equivalent, N2,000 per truck or 40ft equivalent, N3.50 per tonnes for general cargo and N1.00 per tonnes for dry bulk cargo.
ANLCA members mainly generate the money. Sources, however, said it has directed its members not to pay except the interest of the association is represented in the council.
The customs agents, it was learnt, are also demanding to know the amount that would accrue to them before they would lend their support.
At a meeting held by the executives of the group, it was gathered that ANLCA resolved to frustrate efforts to collect the fees except it is shared based on their own formula.
ANLCA, sources said, is proposing 60/40 formula because it has the highest number of members at the ports. The National President of the group, Prince Olayiwola Shittu, said it was high time the association got a good percentage from the revenue it collects for the government.
He said the association still maintains its earlier position on the collection of the controversial transaction fees, which tore the Council apart last year.
He said ANLCA is not responsible for the woes of the council, insisting that its members must take a centre stage in the activities of the council.
"I have told them that if the situation that presented itself that time happens again, we will still maintain the same position. We are the generators. We are the ones that are going to pay, yet some people want to collect the money and spend it. It is not acceptable. The condition we gave was that they should go back to where we stopped and they have accepted.
"Which means that the CRFFN today must be populated by custom agents like you and I. Yes, we are all federation of freight forwarders, but what is your specialty? Are you the seller of satchet water, transporter, or ship chandler? Why must the money come from only custom agents? It does not make sense. How many other departments of CRFFN have been recognised," he asked.
Shittu urged the council to take a cue from India where the role of custom brokers is recognised as one of the revenue spinnerrs for the country.
– The Nation