…Charges SPDC on immediate clean-up of Eleme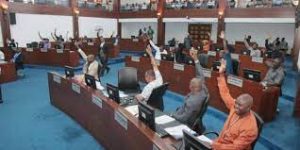 Mkpoikana Udoma
Port Harcourt — The Rivers State House of Assembly on Thursday condemned what it described as persistent oil spillage in the state, occasioned by equipment failures and lackadaisical posture of international oil companies, IOCs, operating in the state.
Speaker of the House, Rt. Hon. Martin Chike Amaewhule, in his resolution, urged SPDC to commence immediate clean up and remediation of affected areas in line with extant laws, while condemning the slow response of oil firms to spills.
Amaewhule lamented the continuous degradation of the environment by SPDC due to its oil exploration and production activities, warning that the Assembly will not fold its arms and watch Rivers people suffer because of the nonchalant attitude of any company.
The Speaker also urged SPDC to engage with the impacted communities and provide necessary palliatives to ameliorate the adverse effect of the oil spillage on the people.
He commended the Committee for the report,  noting that the Committee, even before turning in their report, mediated between SPDC and the impacted communities, as well as getting Shell to commence repair works on the pipeline from which the spill emanated.
The House further mandated the Adhoc Committee to ensure that the resolutions of the House are fully implemented as well as monitor progress of work by SPDC and ensure the oil firm keep to their agreement.
Earlier, the Chairman of the Adhoc Committee, Mr Dumle Maol, said the Committee found out, among other things, that there is a massive and devastating crude oil spillage on SPDC's 28″ Trans Niger Pipeline, TNP, right of way in Eleme.
Maol said the impacted pipeline was buried five feet underground and that a joint investigation has been completed, while SPDC has been given access to the incident site and there was no security breach.
The House had in mid-June 2023, following a petition to the House on crude oil spills in Eleme from SPDC facility, empaneled an Adhoc Committee to investigate the merits of the petition and ensure justice for the impacted community.