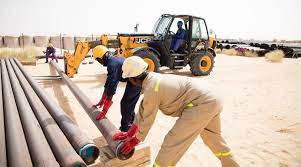 Michael James
Leeds, England — Savannah Energy has posted an unaudited Financial Results for Q1 2023 which shows that the made £147.6 million.
This figure comprises of $71.0m from its Nigerian operations (up by 29% compared to Q1 2022 total revenue of US$55.0m), and Chad upstream revenues of US$76.6m.
The report shows the Group's cash balance stood at US$217.3m, with a net debt of US$412.2m.
In terms of operations, its average gross daily production for the quarter stood at 54.9 Kboepd, compared to average gross daily production of 21.6 Kboepd in Q1 2022. Excluding Chad production, Q1 2023 average gross daily production on a like-for-like basis was 25.9 Kboepd, a 20% increase compared to Q1 2022.
Out of the total average gross daily production of 54.9 Kboepd, 43% was gas, including a 22% increase in production from the Uquo gas field compared to the same period last year, from 116.4 MMscfpd (19.4 Kboepd) to 142.2 MMscfpd (23.7 Kboepd).
Savannah Energy CEO, Andrew Knott said: "This morning's (Friday April 14, 2023) update clearly demonstrates the strength and potential of our business and the positive impact we are making in our host countries: we are reporting like-for-like1 organic Total Revenues growth of 26% year-on-year (with like-for-like Total Revenues having now doubled since 2017); our oil and renewable energy projects in Niger are now advancing at a rapid pace; and COTCo in Cameroon continues to deliver a strong consistent financial performance.
On the new ventures front, we continue to progress our planned acquisition of PETRONAS' assets in South Sudan and expect to announce a series of new utility-scale renewable power projects over the course of Q2 and Q3 2023."
Follow us on twitter