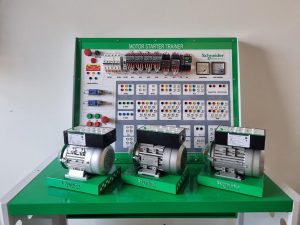 Lagos — Schneider Electric and Amtec Techniquip, a leading provider of locally manufactured educational equipment in South Africa, have seen their collaboration go from strength-to-strength to extend beyond the SADC region's borders to include Nigeria.
Funded by the Schneider Electric Foundation, the partnership has since its inception, three years ago, accelerated access to education through the provision of state-of-the-art training equipment to tertiary institutions such as Didactic benches that bridge the gap between theory and practice and form a critical part of vocational training.
"We are thrilled to now include Nigeria as part of our collaboration with Schneider Electric. The last three years have been rewarding and undoubtedly complimented our company's passion for providing quality engineering education equipment," comments Roger Forte, sales director at Amtec Techniquip.
"There is dire need for high-quality electrical and engineering training education equipment in Nigeria. Through our partnership with Amtec Techniquip we hope to emulate the success of our counterparts in Southern Africa and provide students with equipment that will support and accelerate their studies as electricians and engineers," says DL Steyl, Project Manager – Access to Education, Sustainable Development & Academy at Schneider Electric.
Schneider Electric and Amtec Techniquip will provide tertiary institutions in Nigeria with the following training options:
Domestic wiring solutions
Industrial Wiring Solution
The Industrial Automation Solution
The Home Automation bench
The Solar solution
Schneider Electric's collaboration with Amtec Techniquip underscores the company's ongoing commitment to providing world-class equipment to institutions across Anglophone Africa. The equipment is for example used at F'SASEC (French Southern African Schneider Electric Education Centre) network partners as well as Schneider Electric partners and customers in Southern Africa.
"Amtec Techniquip offer entrenched experience in the electrical educational training space and has been a valuable partner over the last three years. The equipment is professional and meet the highest standards set by Schneider Electric," concludes Steyl.
Follow us on twitter