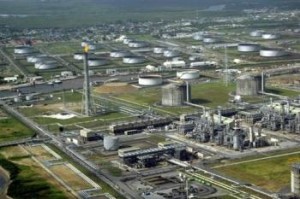 01 February 2012, Sweetcrude, LAGOS – SHELL Production Development Company of Nigeria (SPDC) has lifted a force majeure on exports of its Bonny crude after repairing a damaged pipeline, the company said on Tuesday.
"Shell Petroleum Development Company can confirm lifting of force majeure on Bonny loadings with effect from Monday, January 30 2012," a Shell spokesman said in a statement.
The company had declared force majeure on Bonny Light crude exports from Nigeria in early January.
It had also announced in January that the clean-up of the 20 December leak from the Bonga offshore oil field has been completed successfully, hence the resumption of production at Bonga on January 1, 2012, following reinforcement of asset integrity and safety programmes.
Shell Nigeria Exploration and Production Company (SNEPCo) – subsidiary of SPDC- had shut down production from the field after a leak occurred on one of the three export loading lines as oil was being transferred from the floating production storage and offloading (FPSO) vessel to a loading tanker.
SPDC also resumed production at its shallow offshore EA Field on 27th December last year.